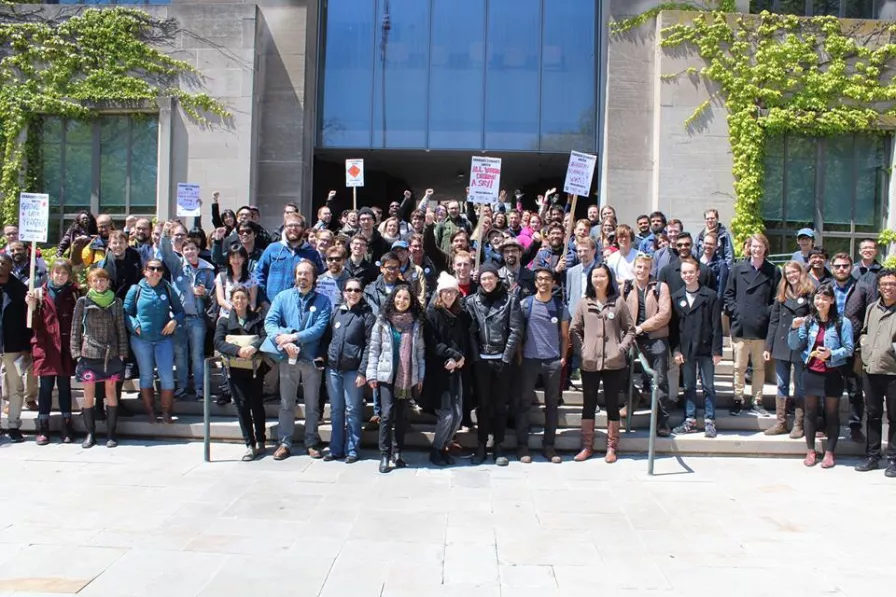 Reprinted from The Nation by Brandon Jordan on August 8, 2017.
"Over the past academic year, graduate students across the country were busy organizing for better working conditions," writes Brandon Jordan in The Nation. "Currently, there are 33 officially recognized graduate-student unions; 23 are fighting for university recognition. With increasing tuition and plummeting wages, meager health-care benefits and overwhelming workloads, these graduate students are coming together to demand better treatment and recognition.
"Here are seven schools where student organizing is at a fever-pitch.
"YALE UNIVERSITY
"On May 22, while students at the Ivy League institution celebrated their graduation at the annual commencement ceremony, Yale graduate students from Unite Here Local 33 and their allies held a protest to demand that the college administration begin negotiating with the union.
"In February, representatives from Local 33 won union elections in eight Yale departments and felt sure they would obtain a contract. However, administrators refused to open any discussion on collective bargaining. …