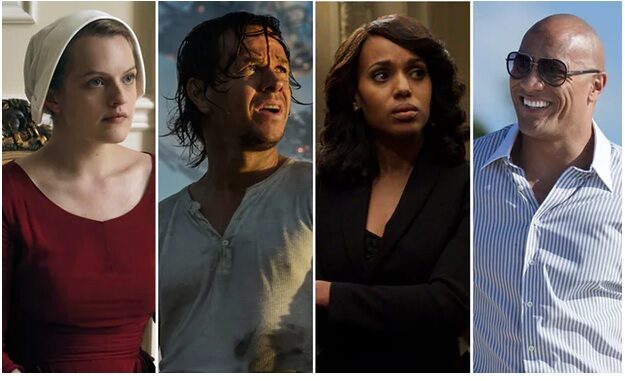 Reprinted from The Manchester Guardian by Jake Nevins on August 23, 2017.
With each year comes a new wave of data about Hollywood salaries. And with each year they remain astronomical, ascendant and, to no one's surprise, inequitable. Recently released studies by Variety, concerning television salaries, and Forbes, detailing the highest-paid actors in film, attest to an industry that's outmoded – exhibit A: its persistent gender and racial pay gap – and adapting to a future shaped by cash-cow streaming services such as Netflix, Amazon and Hulu.
Some statistics from these studies will shock no one. The stars of The Big Bang Theory, for instance, remain the most handsomely compensated on television; after contract restructuring, Kaley Cuoco, Johnny Galecki, Simon Helberg, Kunal Nayyar and Jim Parsons are to earn $900,000 per episode. And Dwayne "The Rock" Johnson, a box-office juggernaut and action-movie mainstay, is again near the top of the Forbes list, having raked in $65m last year for his work in the films Baywatch and Jumanji and on the HBO series Ballers. The Rock topped last year's list but was dethroned this time by Mark Wahlberg.
But there's more to be gleaned from the numbers than just how deep the pockets of A-list actors are. They show, among other things, that Hollywood's superhero-industrial complex is mainly a boy's club, that television, as has long been suspected, is kinder to women these days than film is, and that streaming services and cable networks, emboldened by big gambles that paid off, are aggressively courting actors with the meaty roles and lump sums they once earned in film. …