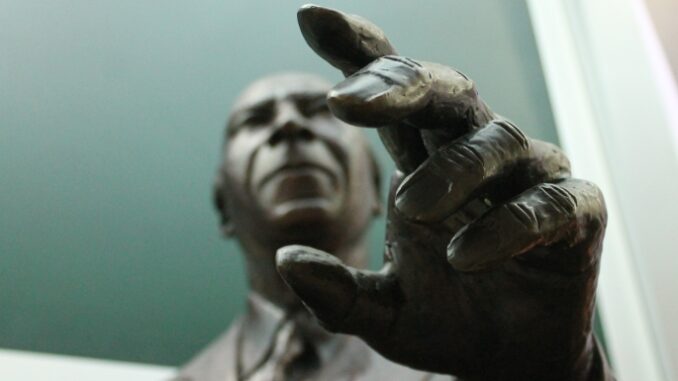 Reprinted from History by Natalie Zarrelli on August 21, 2017.
Thousands of people pass by a significant historic monument every day at Washington D.C.'s Union Station without ever knowing it. At the closest Starbucks to the Amtrak boarding gates is a striking statue honoring A. Philip Randolph, a key leader in the Civil Rights movement. This obscure placement may seem surprising, but according to Touré Reed, Professor of History at Illinois State University, there's a logic to the location in the main train concourse. "[Randolph's] career as a successful civil rights organizer began in 1925, when he was elected president of the Brotherhood of Sleeping Car Porters," the first labor union led by black Americans, says Reed.
Porters were railway employees who loaded and unloaded baggage, among other duties; it was a grueling 24-hour-a-day job, but compared to many other economic avenues for African Americans leading up to World War II, it had prospects. "The porters of that era were often very well educated, and the job entailed travel, so there was a glamor associated with the job that really belied the actual work," explains Reed.
At the time, the Pullman Company, which manufactured and operated railroad cars, expected its poorly paid black porters to spend lots of unpaid time waiting around and cleaning, and required these on-call workers to pay for their own food and lodging. In 1937, the Brotherhood of Sleeping Car Porters became the first black union to successfully negotiate a contract with a major employer, when the Pullman Company (which held a monopoly on overnight sleeping cars) agreed to increase wages, shorten hours, and pay overtime to its black workforce. …