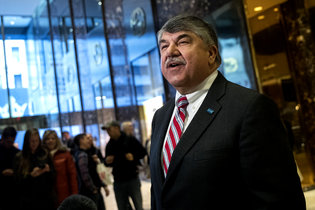 Reprinted from The New York Times by Richard Trumka on August 16, 2017.
"On Tuesday, President Trump stood in the lobby of his tower on Fifth Avenue in Manhattan and again made excuses for bigotry and terrorism, effectively repudiating the remarks his staff wrote a day earlier in response to the white supremacist violence in Charlottesville, Virginia," writes AFL-CIO president Richard Trumka. "I stood in that same lobby in January, fresh off a meeting with the new president-elect. Although I had endorsed Hillary Clinton for president, I was hopeful we could work together to bring some of his pro-worker campaign promises to fruition.
"Unfortunately, with each passing day, it has become clear that President Trump has no intention of following through on his commitments to working people. More worrisome, his actions and rhetoric threaten to leave America worse off and more divided. It is for these reasons that I resigned yesterday from the president's manufacturing council, which the president disbanded today after a string of resignations.
"To be clear, the council never lived up to its potential for delivering policies that lift up working families. In fact, we were never called to a single official meeting, even though it comprised some of the world's top business and labor leaders. The AFL-CIO joined to bring the voices of working people to the table and advocate the manufacturing initiatives our country desperately needs. But the only thing the council ever manufactured was letterhead. In the end, it was just another broken promise. …