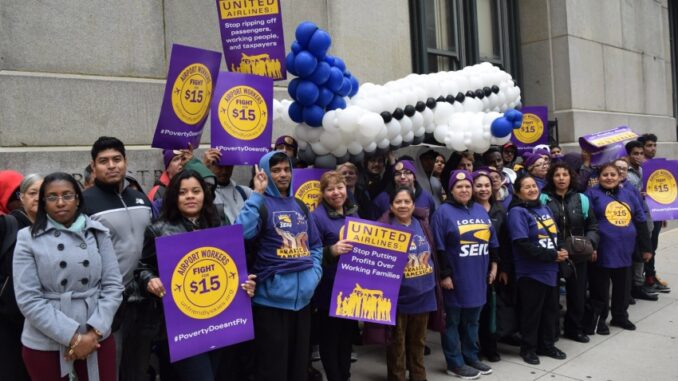 Reprinted from In These Times by Jeff Schuhrke on September 11, 2017.
Eight thousand workers at Chicago's two airports have scored a major victory in their two-year campaign for higher wages and a union.
On Wednesday, the City Council unanimously passed an ordinance requiring private contractors—who employ O'Hare and Midway's baggage handlers, cabin cleaners, wheelchair attendants, janitors, security officers, ticket collectors and de-icers—to abide by new labor standards in order to be licensed by the city. Most employees of airport contractors make low wages, receive few benefits and lack job security.
The ordinance will require contractors to pay a minimum wage of $13.45 starting July 1, 2018, well above Chicago's current minimum of $11 an hour. Though the Illinois General Assembly recently passed a bill that would have raised the state's minimum wage to $15 an hour, Republican Governor Bruce Rauner vetoed it last month. …