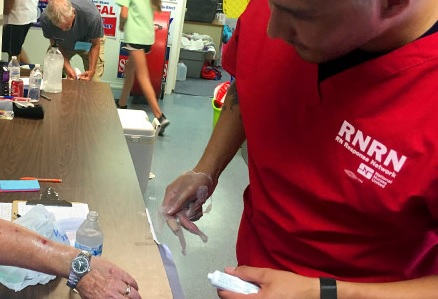 Reprinted from The AFL-CIO's blog Now by NNU staff on September 11, 2017. 
National Nurses United's (NNU's) Registered Nurse Response Network (RNRN), a national network of volunteer nurses, will deploy its second delegation of RN volunteers to Houston, beginning Monday, September 11, to provide medical assistance in the wake of Hurricane Harvey, NNU announced Monoday.
"What we know from RNRN's work in previous disaster-stricken areas, including Hurricanes Katrina and Rita, as well as post-earthquake Haiti and super typhoon Haiyan, is that after an initial surge of volunteers, many people have to return to work. That is true in this case, as well as some volunteers being pulled to Florida, to address the impending Hurricane Irma," said RNRN Director Bonnie Castillo.
"Yet, the disaster didn't end for Texans still in the recovery process. So our next round of volunteer nurses will be deploying to help continue ensuring enough medical aid exists on the ground for those impacted by Hurricane Harvey." …