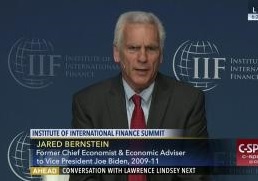 Reprinted from The Washington Post by Jared Bernstein on September 12, 2017.
"Poverty fell, middle-class incomes rose, and the share of Americans without health coverage ticked down to a historical low last year, according to data released Tuesday morning by the Census Bureau," writes Jared Bernstein in The Washington Post. "This trifecta of gains for poor and middle-income households, as well as the uninsured, shows that the seven-year expansion, along with the Affordable Care Act, has continued to lift the living standards of many American households. However, last year's gains were even stronger for those at the top of the income scale, suggesting that the inequality of economic outcomes continues to grow in America.
"Building on these gains will require stabilizing and expanding the reach of the ACA, keeping the economic recovery going, and making sure our anti-poverty policies remain robustly funded. This last part will require pushing back hard on plans of the congressional majority to cut spending on programs that are demonstrably helping economically vulnerable households.
"The share of the poor, officially defined as people in households with incomes below a minimum threshold, declined from 13.5 percent to 12.7 percent last year, a rate close to that at the last economic peak in 2007 (see note below on how a 2013 change to the survey affects such comparisons). Real median income — the inflation-adjusted income of the household smack in the middle of the income scale — rose 3.2 percent last year, or $1,800 dollars, to about $59,000, again close to its pre-recession peak. While these census data refer to 2016, as economic conditions have continued to broadly improve, similar progress may be occurring this year as well (though the impact of the 2017 hurricane season will need to be assessed, of course). …