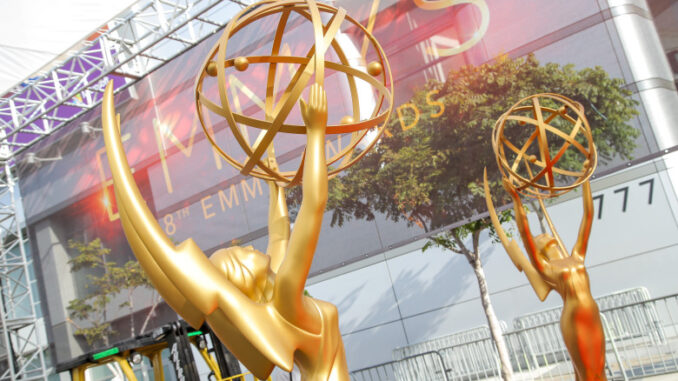 Reprinted from Variety by Cynthia Littleton on September 10, 2017.
Netflix's Stranger Things and HBO's Westworld gained momentum in the Emmy Award race as both shows racked up five wins at the Creative Arts Emmy Awards.
NBC's This Is Us pulled out a big win with the last award of the night — the guest drama actor win for Gerald McRaney. The same was true for Hulu's The Handmaid's Tale as Alexis Bledel prevailed for guest drama actress.
Saturday Night Live, the venerable NBC sketch comedy, also took five wins, including comedy guest actor and actress awards for Dave Chappelle, as host, and Melissa McCarthy, for her guest appearances as former White House press secretary Sean Spicer. …
Highlights from Saturday and Sunday's award presentations in 92 categories will air September 16 as a special on FXX.
Here is a complete list of winners for categories represented by the Motion Picture Editors Guild: …
Single-Camera Picture Editing for a Comedy Series 
Jennifer Lilly (Master of None)
Multi-Camera Picture Editing for a Comedy Series
Peter Chakos (The Big Bang Theory) …
Sound Mixing for a Comedy or Drama Series (One Hour)
Keith Rogers, Scott Weber, Roger Stevenson, Kyle O'Neal (Westworld — The Bicameral Mind) …
Sound Editing for a Series
Bradley North, Craig Henighan, Jordan Wilby, Jonathan Golodner, Tiffany S. Griffth, Sam Munoz, Sam Munoz, David Klotz, Noel Vought & Ginger Geary (Stranger Things)
Sound Mixing For a Comedy Or Drama Series (Half-Hour) and Animation
Andy D'Addario, Gary Gegan, Marco Fiumara (Mozart in the Jungle — Now I Will Sing)
Sound Editing for a Limited Series, Movie or Special
Nicholas Renbeck, Marissa Littlefield, Steve Visscher, Ruth Hernandez, Sara Stern, Luciano Vignola, Odin Benitez, Ruy Garcia, Wyatt Sprague, Warren Shaw, Roland Vajs, Heather Gross, Dan Evans Farkas, Grant Conway & Marko Costanzo (The Night Of) …
Sound Mixing For A Limited Series or Movie
Nicholas Renbeck, Michael Barry, Felix Andrew, Larry Hoff (The Night Of — The Beach) …
Single-Camera Picture Editing for a Limited Series or Movie
Jay Cassidy & Nick Houy (The Night Of) …
Single-Camera Picture Editing for a Drama Series
Dean Zimmerman (Stranger Things)
***
Outstanding Picture Editing for a Structured or Competition Reality Program
Jamie Martin, Lead Editor VH1 John Lim, Editor; Michael Roha, Editor (RuPaul's Drag Race Oh. My. Gaga!) 
Outstanding Sound Editing for a Nonfiction Program (Single or Multi-Camera)
Jon Michaels, Co-Supervising Sound Editor HULU; Cameron Frankley, Co-Supervising Sound Editor; Harrison Meyle, Dialogue Editor; Dan Kenyon, Sound Effects Editor; Will Digby, Sound Effects Editor; Melissa Muik, Music Editor (The Beatles: Eight Days A Week – The Touring Years)
Outstanding Sound Mixing for a Nonfiction Program (Single or Multi-Camera) (Area Award: Possibility of one, more than one or no award.)
Chris Jenkins, Re-Recording Mixer HULU; Cameron Frankley, Re-Recording Mixer; Nathan Evans, Production Mixer; Sam Okell, Music Mixer (The Beatles: Eight Days A Week – The Touring Years)
Outstanding Picture Editing for Variety Programming (Area Award: Possibility of one, more than one or no award.)
Anthony Miale, Editor HBO (Last Week Tonight With John Oliver) F*ck 2016 (segment)
Outstanding Picture Editing for a Nonfiction Program 
Bret Granato, ACE, Editor ESPN; Maya Mumma, ACE, Editor; Ben Sozanski, ACE, Editor (O.J.: Made In America Part 4)
Outstanding Picture Editing for an Unstructured Reality Program
Ian Richardson, Editor NATIONAL GEOGRAPHIC; Tony Diaz, Editor;  Eric Michael Schrader, Editor; Matt Mercer, Editor (Life Below Zero River of Rage)
Outstanding Sound Mixing for a Variety Series or Special (Area Award: Possibility of one, more than one or no award.)
Josh Morton, Post Audio Mixer CBS; Thomas Holmes, Production Mixer; Mikael Stewart, FOH Production Mixer; Eric Schilling, Broadcast Music Mixer; John Harris, Broadcast Music Mixer; Ron Reaves, FOH Mixer; Tom Pesa, Stage Foldback Mixer; Michael Parker, Stage Foldback Mixer; Eric Johnston, Playback Music Mixer; Pablo Munguia, Pro Tools Mixer; Bob Lamasney, Sweetening Mixer 59th Grammy Awards
Outstanding Technical Direction, Camerawork, Video Control for a Limited Series, Movie or Special

Steven Cimino (Saturday Night Live "Host: Jimmy Fallon")