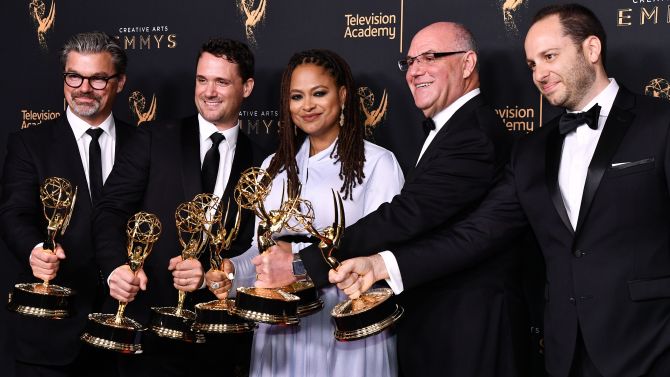 Reprinted from Variety by Cynthia Littleton on September 9, 2017.
Emmy voters showered awards on Ava DuVernay's documentary 13th, Hairspray Live, RuPaul's Drag Race, James Corden, and Saturday Night Live during Saturday's first half of the two-night Creative Arts Award presentation at the Microsoft Theater.
13th won for documentary special as well as writing, motion design and original music and lyrics for The Letter to the Free by Common, Robert Glasper and Karriem Riggins. The Netflix documentary, which also collected a Peabody Award and an Oscar nomination this year, led the winners field with four trophies.
DuVernay was one of several winners who made emotional pleas for those in media to use their power to speak out on urgent issues, from criminal justice and prison reform to climate change.
Creative Arts Emmy Winners
Reprinted from Variety by Cynthia Littleton on September 9, 2017.
James Corden's Carpool Karaoke Primetime Special has won the Emmy for variety special, kicking off the 69th annual Creative Arts Emmy Awards at the Microsoft Theater in downtown Los Angeles.
The non-televised award categories will be handed out tonight and on Sunday, followed on September 17 by CBS' live telecast of the Primetime Emmy Awards.
Corden's Late Late Show nabbed its second consecutive win in the category, after claiming it last year with its first Carpool Karaoke special. A&E's Leah Remini: Scientology and the Aftermath took the trophy for informational series. An emotional Remini paid tribute to her late mother as she accepted the award, and thanked all of those former adherents of Scientology who participated in her show.
Fox's Bob's Burgers was recognized for animated program. Cartoon Network's Adventure Time took its second trophy for short-form animated program.
Common won in the music and lyrics category for his work on Ava DuVernay's Netflix documentary 13th, about the expansion of the US prison population during the past 40 years. He dedicated the win for the song Letter to the Free to the 2.3 million people who are incarcerated.
The team from Full Frontal with Samantha Bee won writing for a variety special for their Not the White House Correspondents' Dinner telecast. Bee told reporters backstage she is ready for the news flow of the Trump era to slow down a bit. "As citizens we would actually ask for less," she said. "We have what we have so we make what we can out of it." …
Here's a list of categories represented by the Editors Guild to be presented tonight. …
Picture Editing for a Structured or Competition Reality Program
John Lim & Michael Roha (RuPaul's Drag Race) …
Sound Editing for a Nonfiction Program
Jon Michaels, Harrison Meyle, Dan Kenyon, Will Digby & Melissa Muik (The Beatles: Eight Days a Week – The Touring Years) …
Picture Editing for Variety Program 
Anthony Miale (Last Week Tonight With John Oliver) …
Picture Editing for a Nonfiction Program 
Bret Granato, Maya Mumma & Ben Sozanski (O.J.: Made in America) …
Sound Mixing For a Variety Special Series or Special
Josh Morton, Thomas Holmes, Mikael Stewart, Eric Schilling, John Harris, Ron Reaves, Thomas Pesa, Michael Parker, Eric Johnston, Pablo Munguia, Bob LaMasney (59th Grammy Awards)
Steve Watson, Charlie Jones, Steve Lettie, Jonathan Herrera (Last Week Tonight with John Oliver — Sub-Prime Auto Loans)
Kristian Pedregon, Paul Sandweiss, Tommy Vicari, Pablo Munguia, Pat Baltzell, Michael Parker, Bob LaMasney, John Perez, Tom Pesa, Brian Flanzbaum (The Oscars)
Al Centrella, Susan Pelino, Jay Vicari, Dave Natale, Erik Von Ranson, Simon Welch (2017 Rock and Roll Hall of Fame Induction Ceremony)
Paul Sandweiss, Christian Schrader, Alex Guessard, Simon Higgs, Tom Pesa, Paul Ramsay, Pablo Munguia, Andre Bowman (Super Bowl LI Halftime Show Starring Lady Gaga)
Ryan Young, Brian Riordan, Michael Abbott, Eric White, Tim Hatayama, Randy Faustino, Kenyata Westbrook, Sterling Cross, Robert Matthews Jr., John Koster, Andrew Fletcher, Christian Schrader, Carlos Torres, William Dietzman, Michael Bernard (The Voice — Season Finale)
Sound Mixing For a Nonfiction Program (Single or Multi-Camera)
Brian Bracken (Anthony Bourdain Parts Unknown — Rome)
Chris Jenkins, Cameron Frankley, Nathan Evans, Sam O'Kell (The Beatles: Eight Days A Week – The Touring Years)
Keith Hodne, Eric Di Stefano (O.J.: Made In America — Part 2)
Graham Wild (Planet Earth II — Cities)
Jeffrey Perkins (13th) …
Picture Editing for an Unstructured Reality Program
Jarrod Burt, Jacob Lane, Stephanie Lyra, M'Daya Meliani, Paul Cross, Dave McIntosh & Ryan Rambach (Dream Come True)
Peggy Tachdjian, Tonya Noll, Jacob Lane & Jarrod Burt (Oh Baby!)
Daysha Broadway, Dan Zimmerman, Jacob Lane, Jarrod Burt, M'Daya Meliani & Ryan Rambach (Born This Way)
Josh Earl, Rob Butler, Nathen Araiza & Ben Bulatao (Deadliest Catch)
Ian Richardson, Tony Diaz, Eric Michael Schrader & Matt Mercer (Life Below Zero) …