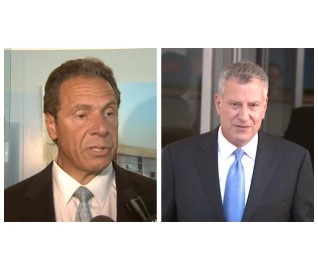 Reprinted from CBS News by Marcia Kramer on September 18, 2017. 
New York Governor Andrew Cuomo and Mayor Bill de Blasio were facing criticism Monday for taking part in a rally supporting striking cable workers.
As CBS2 Political Reporter Marcia Kramer reported, critics said the politicians are ignoring customer complaints.
Thousands of union workers rallied in both Downtown Brooklyn and Foley Square in Lower Manhattan in Monday, in support of the striking Spectrum cable workers.
Cuomo and de Blasio are offering fiery rhetoric.
"It's about respect and fairness," Cuomo said. …