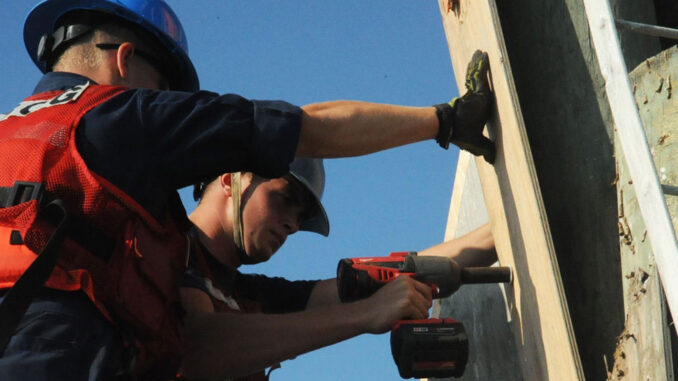 Reprinted from The Union of Concerned Scientists by Kathleen Rest on September 5, 2017.
Storm waters in the greater Houston area are subsiding and the scale of devastation and destruction is staggering. The personal loss, pain, and suffering of families and impacted communities are immeasurable.
As the immediate crisis of saving lives and providing emergency aid and shelter to many thousands winds down, the daunting task of recovery, cleanup, and rebuilding of homes, businesses, and essential infrastructure begins. And, with my 25-plus years of work and experience in occupational health and safety, I am all too aware of the myriad hazards, exposures, and risks workers will be facing in this long-term effort.
Safeguarding workers' health and safety must not be an afterthought.
Post-disaster recovery, cleanup, and reconstruction operations present a panoply of risks and dangers—with workers on the front lines.
Some workers will be tasked with the highly hazardous task of getting the area's oil refineries and chemical plants back on-line. Start-up operations can result in uncontrolled releases and explosions that place the workers and surrounding communities at grave health and safety risk. The US Chemical Safety Board has issued a safety alert, urging caution and providing a checklist for evaluating systems, tanks, instrumentation, and equipment before start-up. …
Union of Concerned Scientists 9/5
More Than 40 Sites Released Hazardous Pollutants Because of Hurricane Harvey
Reprinted from The New York Times by Troy Griggs, Andrew Lehren, Nadja Popovich, Anjali Singhvi and Hiroko Tabuchi on September 8, 2017.
Houston's sprawling network of petrochemical plants and refineries released millions of pounds of pollutants in the days after Hurricane Harvey began barreling toward Texas.
Even under normal operations, the hundreds of industrial facilities in the area can emit harmful chemicals. But from August 23 to August 30, 46 facilities in 13 counties reported an estimated 4.6 million pounds of airborne emissions that exceeded state limits, an analysis by the Environmental Defense Fund, Air Alliance Houston and Public Citizen shows.
Federal and state regulators say their air monitoring shows no cause for alarm. But the extra air pollution is just the latest concern for residents and environmental groups in the days after the storm. At least 14 toxic waste sites were flooded or damaged, raising fears of waterborne contamination. And nearly 100 spills of hazardous substances have been reported. …