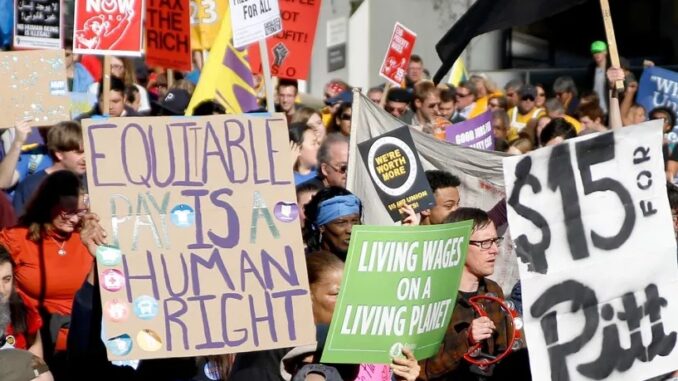 Reprinted from The Nation by Helaine Olen on September 1, 2017.
"A few months ago, President Donald Trump devoted his weekly address to the beleaguered American employee," writes Helaine Olen in The Nation. "'For too long, American workers were forgotten by their government—and I mean totally forgotten,' he said. 'My administration has offered a new vision. The well-being of the American citizen and worker will be placed second to none.'
"No doubt he'll come up with more pro-worker blather for Labor Day. Don't listen. The only way Trump is helping the average employee is if you consider The Simpsons' Mr. Burns a working stiff.
"The rollback of labor rights and protections since Trump took office is staggering. It puts worker safety at risk and guarantees that many workers will earn less, but that's not all. Measures to help victims of discrimination receive redress are on the scrap heap. Unions are running scared. 'It's a death by a thousand cuts,' explains Heidi Shierholz, a senior economist at the Economic Policy Institute.
"Last week, as most of us in the United States were riveted by Hurricane Harvey's descent on Texas, the Occupational Safety and Health Administration removed from its Internet home page a list of workers who died as a result of workplace injuries, burying it deep within the website. At the same time, it changed how the list is compiled; it will now only include instances where the company was cited for safety violations leading to a worker's death. Details such as the name of the deceased worker are also no longer considered worthy of inclusion. 
The Atlanta Journal-Constitution
worked out
 that of the at least 32 Georgia workers it determined died as a result of work-related injuries since October 1 of last year, only two even get a mention on the new list. …