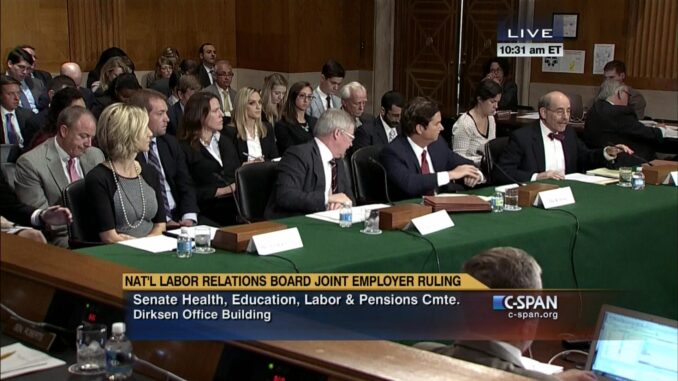 Reprinted from The Hill by Lydia Wheeler on October 4, 2017.
Legislation to repeal an Obama-era National Labor Relations Board ruling that made companies and franchisors potentially liable for labor law violations committed by their subcontractors or franchisees advanced in the House on Tuesday.
The House Education and the Workforce Committee voted 23 – 17 to send the Save Local Business Act bill to the floor for a full vote.
The legislation would rescind the National Labor Relations Board's (NLRB) 2015 ruling that redefined a joint-employer. The board ruled that a company is considered a joint-employer with a subcontractor if it has "indirect" control over the terms and conditions of employment or has the "reserved authority to do so." …
Republicans voted down amendments offered by Democrats, including one introduced by Representative Jared Polis (D-Colorado) to rename the bill the "Wage Theft Immunity Act."
Polis called the bill a "road map for employers to prevent themselves from being held responsible for wage theft."
Polis cited a recent study from the Economic Policy Institute that found 2.4 million workers in the 10 most populous states lost $8 billion annually for minimum wage violations alone. …