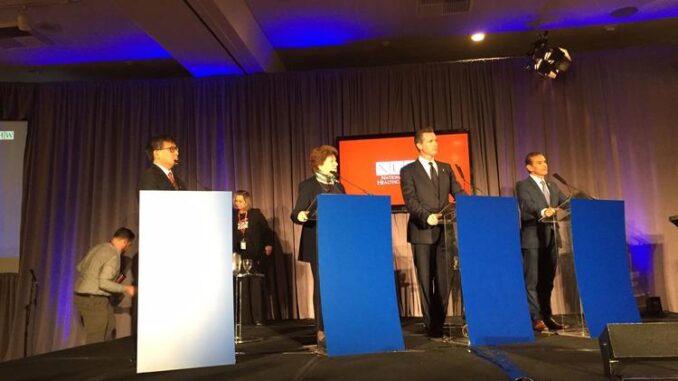 Reprinted from The Los Angeles Times by Phil Willon on October 22, 2017.
The top four Democrats running for California governor stood onstage for the first major candidate forum Sunday, splintering over single-payer healthcare but little else.
The divide on healthcare mirrored the conflict within the Democratic Party both nationally and in California, with progressives — including those who backed Vermont Sen. Bernie Sanders for president — aggressively pushing for universal healthcare while moderates and establishment party members want to plot a more deliberative, cautious course.
On almost every other issue, from immigration to making housing more affordable in California, the four gubernatorial candidates aligned on Sunday. They remained cordial throughout the 90-minute exchange, taking only a few subtle digs at one another that would probably go unnoticed by voters paying only casual attention to the race.
The candidates each called for an increase in coverage for mental health and for holding healthcare companies more accountable. They threw sharp jabs at the Trump administration, vowing to take legal action to shield immigrants in California.
All four also lavished praise on organized labor, which was well received by the sponsor of the forum in Anaheim, the National Union of Healthcare Workers, an organization that has close to 14,000 members in California. Union president Sal Rosselli said the Republicans in the governor's race were also invited but did not respond. …