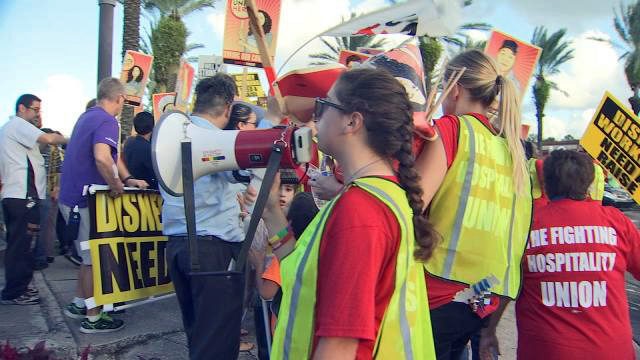 Reprinted from Real News by Michael Sainato on October 27, 2017.
In Orlando, Florida, labor unions representing 38,000 full-time and part-time workers at Disney World agreed this week to extend an existing contract until December 1, 2017. The unions are fighting for wage increases for workers that include an increase of the company's minimum wage from $10 an hour to $15 an hour.
Last week hundreds of employees picketed outside of Disney entrances demanding better wages from the company. In negotiations, the unions and Disney were unable to come to an agreement. Disney was only willing to offer a five percent salary increase over the next two years.
In November 2016, The Orlando Business Journal reported that Disney saw a record year in growth and revenue. "Overall revenue at Disney reached a record $55.6 billion for the fiscal year, up 6 percent from $52.4 billion reported for the year prior." The company has a reputation for boosting profits and revenue on the backs of its' workers. In March 2017, Fortune reported that the Department of Labor ordered Disney to pay $3.8 million in back wages to more than 16,000 Florida employees for forcing the employees to pay for their own costumes. The costume deductions put several employees under the federal minimum wage of $7.25, violating federal wage laws. During hurricane closures, unions and Disney have clashed over Disney's refusal to pay lost wages to employees, though this year after Hurricane Irma they agreed to pay some workers for the hours of pay they lost. …