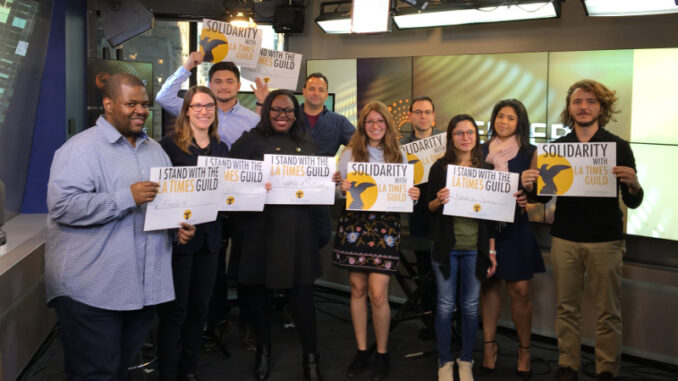 Reprinted from Jacobin by Alex Press on October 28, 2017.
"Earlier this month, [Los Angeles Times] employees arrived at their desks to find flyers announcing that 'a majority of the newsroom has already signed [union] cards,'" writes Alex Press in Jacobin. "While the old Los Angeles Times building was blown-up, with twenty-one people killed, in 1910 by a radical hoping to attack the then-diehard antiunion paper, today's Times workers are unionizing.
"Tronc, the ghastly new name of the paper's parent company (previously Tribune Publishing), responded to the announcement by intensifying its ongoing antiunion campaign.
"So impatient were the bosses to get their message out, they forgot to edit the generic language, leaving it to read: 'you could be STUCK with the [Union].' Wherever tronc got its materials, its message was clear: it would not give in without a fight.
"The workers hope to pressure Tronc into voluntarily recognizing the union, but they are prepared to hold a union election if they must. …