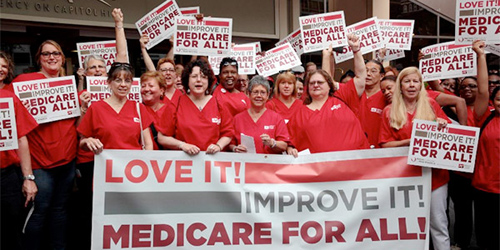 Reprinted from Common Dreams by Charles Idelson on October 24, 2017.
National Nurses United on Tuesday hailed adoption of a resolution by the AFL-CIO at its convention in St. Louis, declaring that "we will support legislation that guarantees health care as a human right through an improved Medicare for All."
Adopted by unanimous vote, the resolution said the Medicare for all system "must guarantee everyone can get the health services they need without exclusions or financial barriers to care." To achieve that, we will engage with all affiliate bodies and constituency groups to win. . .  Medicare for All.
The AFL-CIO resolution subsumed a resolution brought to the convention by NNU, together with the Amalgamated Transit Union, American Postal Workers Union, Association of Flight Attendants, American Federation of Government Employees, California School Employees Association, International Association of Machinists and Aerospace Workers, United Auto Workers, International Federation of Professional and Technical Engineers, and Utility Workers Union of America. …