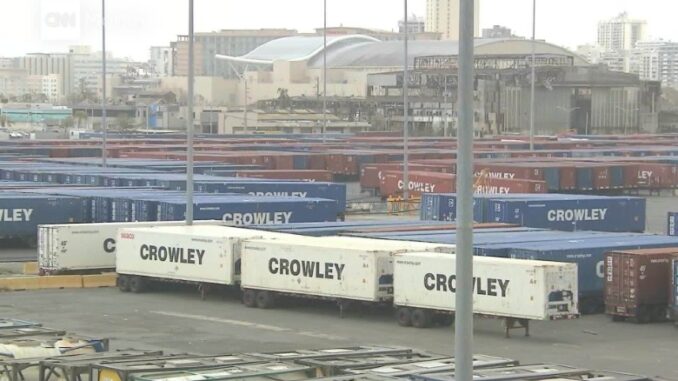 Reprinted from CNN Money by Jackie Wattles on September 30, 2017.
Major US labor unions are organizing truck drivers to help with relief efforts in Puerto Rico as the island continues to grapple with the devastation wrought by Hurricane Maria last week.
The Teamsters union and the AFL-CIO, a federation of more than 50 unions, are working together to recruit truckers to travel to Puerto Rico and help distribute a stockpile of relief supplies
Thousands of shipping containers full of food, water, and medicines were sitting unused at Puerto Rico's Port of San Juan. …
AFSCME to Trump, Congress: Provide Hurricane Relief to Puerto Rico Now
Reprinted from AFSCME's website by Pablo Ros on September 27, 2017. 
It's been a week since Hurricane Maria devastated Puerto Rico, and the residents of the commonwealth are still waiting for help from the mainland. They're quickly finding out who their real friends are and neither President Donald Trump nor Congress seem to be among them.
During a week when leaders should have been scrambling to provide much-needed relief to victims of the hurricane in Puerto Rico, they were instead focused on trying (and failing) to take away health care from millions of Americans and creating distractions such as Trump's rants against the National Football League.
AFSCME President Lee Saunders issued a statement asking Trump and Congress to delay no more in providing relief to Puerto Ricans:
"The people of Puerto Rico are American citizens with the same rights and privileges as any mainland resident and they cannot wait a minute longer for Washington to act. No legislative or political priority is more important than addressing this rapidly escalating crisis," he said. …