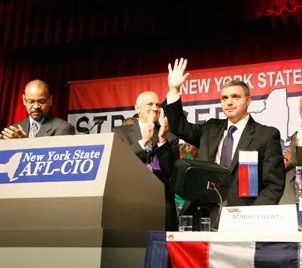 Reprinted from The New York State AFL-CIO by Mario Cilento on November 8, 2017.
"… working men and women have defeated the Constitutional Convention ballot proposal," writes New York State President Mario Cilento in a press release. "AFL-CIO! This is a tremendous victory for organized labor in New York and for all working people.
"This has been the priority issue for us here at the New York State AFL-CIO for the past two years.
"From the very beginning we were committed to educating and engaging our members and the general public around this critical issue. Early polls showed close to 70 percent support for a Constitutional Convention while the vast majority of editorial pages, 'so called' good government groups and others laid the ground work for an incredibly steep hill to climb. The result of the election is very clear; working men and women understood what was at stake.
"Our constitution has some of the strongest worker protections in the country including, the right to collectively bargain, unemployment insurance, workers compensation, the eight-hour work day, civil service protections, public employee pension protections and prevailing rate. All of those rights will continue to be protected for the working men and women of this great state. …