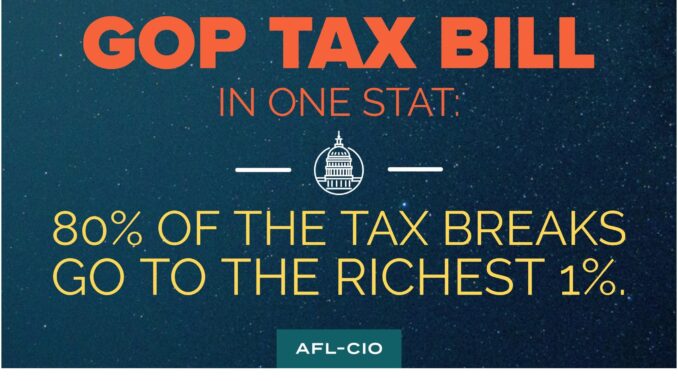 Reprinted from The AFL-CIO's blog Now on November 16,2017. It is attributed to its staff.
Congressional Republicans, knowing how much their new tax bill stinks, seem determined to ram it through Congress before the rest of the country figures out how truly awful it is.
How shockingly awful is the "Trickle Down Tax Giveaway Act of 2017" (H.R. 1)? You may want to ask your children to leave the room because the following information could be upsetting.
47% of the tax breaks would ultimately go to the richest 1% of taxpayers, who would receive an average annual tax cut of $62,300;
$1.5 trillion of the tax giveaways in this bill would not be paid for, and it just so happens that the Republican budget would cut $1.5 trillion from Medicare and Medicaid;
At the same time, 24% of households would pay higher taxes under this bill—on average $2,000 more …