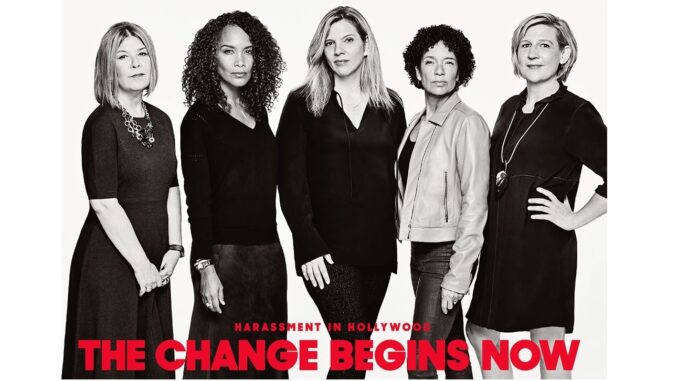 Reprinted from The Hollywood Reporter by Kim Masters by November 1, 2017.
As the industry reels from the Harvey Weinstein scandal, The Hollywood Reporter gathered top-ranking producers, showrunners and execs — Sue Naegle, Krista Vernoff, Terry Press, Stephanie Allain and Mara Brock Akil — for a no-B.S. brainstorm on anger, survival and, most important, solutions: "Hire based on talent and fairness and create work environments where people can actually do their best."
"It's about time." That was Mara Brock Akil's initial reaction as devastating tales of sexual harassment and assault blanketed the media in the weeks after allegations against Harvey Weinstein first surfaced. But then Akil registered a series of more nuanced reflections on power, gender, race and value — ideas that became the meat of a raw and long-overdue conversation among five high-ranking Hollywood women: Sue Naegle, who held top roles at United Talent Agency and HBO before segueing into a producer/executive role at Annapurna Pictures; Grey's Anatomy showrunner Krista Vernoff; CBS Films chief Terry Press; producer Stephanie Allain (2014's Beyond the Lights); and Akil, a producer who counts The Game and Girlfriends among her credits.  …
Kim Masters: [Are we] at a turning point? …
Mara Brock Akil: It really is a call to arms to men because they're going to be the best people to talk to, to talk the language, to understand the code, to understand what's going to get other men to do the right thing — and that's hiring based upon talent and fairness and creating work environments where people can actually do their best. That is what's needed.