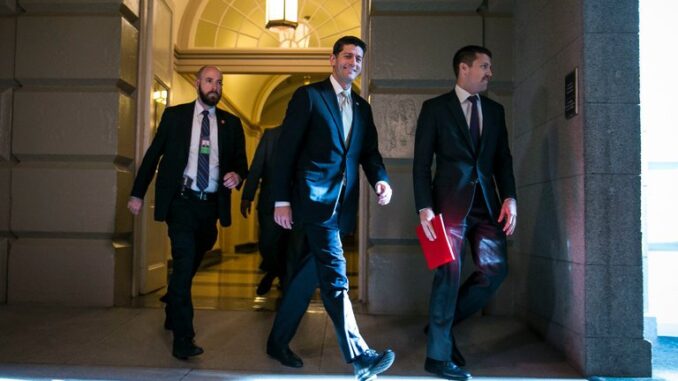 Reprinted from The Washington Post by Mike DeBonis and Damian Paletta on November 16, 2017.
The House passed its version of the Republican tax overhaul Thursday, notching a key win for President Trump and House Speaker Paul Ryan (R-Wisconsin). But obstacles remain in the Senate, which is refining its own version of the legislation amid objections from key GOP senators.
The bill passed with 227 votes in favor and 205 against. 13 Republicans voted against the bill. No Democrats voted for it.
Trump and Republican leaders in Congress are aiming to pass a bill that would cut taxes by as much as $1.5 trillion by the end of the year. Both the House and Senate bills deliver the majority of the cuts to businesses and wealthy Americans, but there are significant differences between the bills that will have to be resolved. …
The House bill delivers more than 80 percent of its overall cuts to corporations, business owners and wealthy families who are subject to the federal estate tax, according to estimates released by the Joint Committee on Taxation, Congress's nonpartisan tax analyst. But most middle-class Americans would see an immediate tax cut because of a lowering of individual tax rates, the near-doubling of the standard deduction and a larger child tax credit. …
GOP Moves Closer to 'Greatest Transfer of Wealth to the Super-Rich in Modern American History'
Reprinted from Common Dreams by Jake Johnson on November 16, 2017.
With their passage of a deeply unpopular $1.5 trillion tax cut bill on Thursday, House Republicans did their part in "paving the way for the greatest transfer of wealth from regular people to the super-rich in modern American history,"—a move that sparked a flood of outrage from progressive activists and lawmakers who vowed to mobilize and do everything in their power to "kill the bill."
"If we are going to stop Republicans from taking healthcare from millions and slashing Medicare to give tax cuts to the wealthy and large corporations, now is the time to stand up and fight back," said Senator Bernie Sanders (I-Vermont) in a call to action that was echoed by many of the progressive groups that played a significant role in the fight against Trumpcare. …