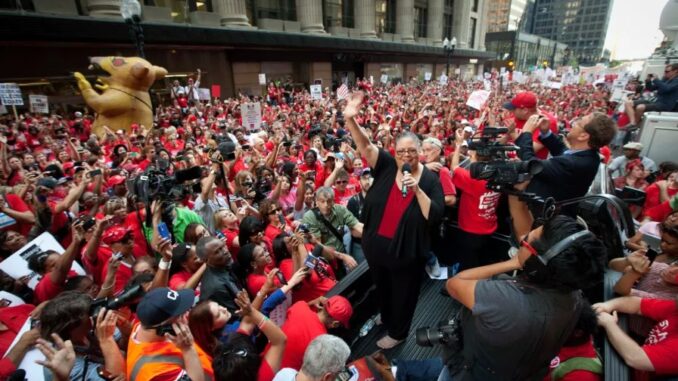 Reprinted from The Nation by Mindy Isser on November 16, 2017.
"National 'right to work" is coming," writes Mindy Isser in The Nation. "The forthcoming Supreme Court decision in Janus v. AFSCME could deal a devastating blow to public-sector unions by striking down their ability to collect mandatory dues from members. If the Court rules as expected, it will be the latest victory against collective bargaining for the rich and powerful.
"'Right-to-work' laws, which already exist in 28 states, prohibit 'agency shops,' which require that workers either belong to a union or pay a fee equivalent to union dues. The union must represent every worker covered by a workplace's collective-bargaining agreement, regardless of their membership status—many in the labor movement call these non-members 'free riders.' Right-to-work laws exist to deplete unions of resources, thus lowering standards for workers across the board and shifting power from workers to bosses.
"The right wing has long had the total decimation of unions at the top of its agenda. In a fundraising letter written in April 2016, the insidiously named State Policy Network (an alliance of 66 anti-union think tanks) wrote that the purpose of making right-to-work the law in all 50 states was 'permanently depriving the Left from access to millions of dollars in dues.' Dues are the lifeblood of unions' ability to sustain their organization, fund new organizing projects, and provide resources to broader social-justice movements. …