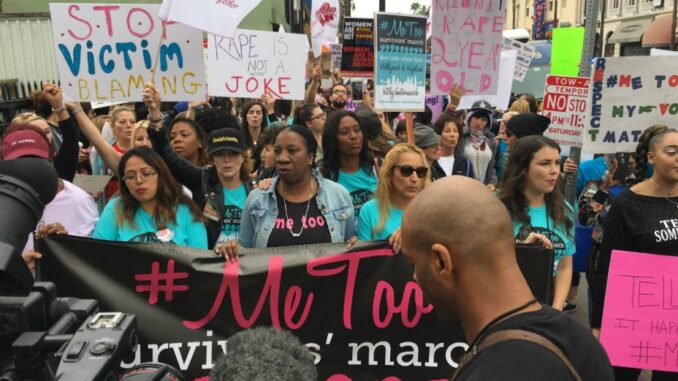 Reprinted from The Los Angeles Times by Alene Tchekmedyian and Alene Tchekmedyian on November 12, 2017.
Some wore T-shirts with the words "Me Too" emblazoned across the front, while others held up signs that said "No More Sexual Abuse" and "Rape is not a Joke."
On Sunday, dozens of survivors of sexual harassment and assault and their supporters gathered in front of the Dolby Theater in Hollywood to draw attention to their cause. Recently, there has been an uprising of women who have gone public with their stories of abuse.
"I'm really happy to come here, because really it's Hollywood that opened this floodgate," said Tarana Burke, who co-founded an organization called Just Be Inc. "It's really symbolic to have this march happen, not with Hollywood stars but in Hollywood." …
Take Back the Workplace, Me Too Marches Storm Hollywood
Reprinted from The Hollywood Reporter by Mia Galuppo on November 12, 2017.
… Hundreds turned out for the march, which was organized by comedian Tess Rafferty, with the help of the Feminist Majority Foundation, Civican and We for She. The events came more than a month after reports of Weinstein's alleged decades' worth of sexual assault and harassment. Since then, alleged victims have come forward with accusations at numerous industry figures, including Kevin Spacey, Brett Ratner and director James Toback.
Mia Galuppo
In attendance at the Sunday morning march was Weinstein accuser Lauren Sivan, who previously alleged that Weinstein, in an empty restaurant kitchen, masturbated in front of her and ejaculated into a potted plant. The local Fox News reporter Lauren Sivan, who served as the celebrity chair for the march, spoke at a planned press conference outside the CNN building.
"This is 2017, and the time is ripe of a re-ordering of power," Sivan said. "You will no longer keep us quiet or label us gold-diggers or psychos. We want our daughters and sons to be able to go to a workplace and never have to take a meeting with a dude in a bathrobe. They will never have to choose to put out or keep their job."   …