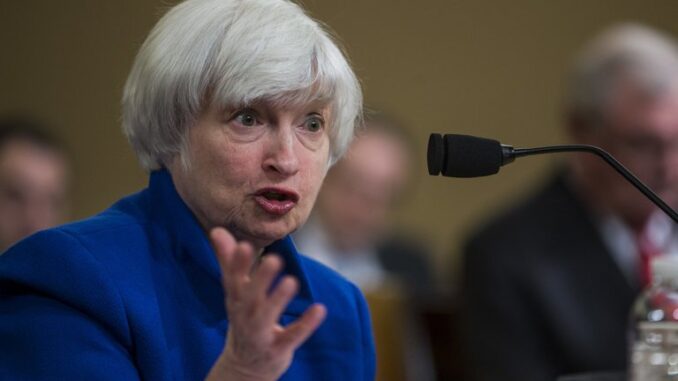 Reprinted from The New York Times by Binyamin Appelbaum, Anna Swanson and Cecilia Kang on December 10, 2017.
Fed Expected to Increase Key Interest Rate.
Janet Yellen will most likely oversee her last major decision as Federal Reserve chairwoman on Wednesday. The Fed's policymaking committee, which meets Tuesday and Wednesday, is widely expected to announce an increase in its benchmark interest rate for a third time this year. The expected decision would lift the rate to a range of 1.25 to 1.5 percent. The Fed has been raising rates despite the weakness of inflation because unemployment has fallen to a low level and job growth remains strong. After the Fed's policy announcement, Yellen will hold her final news conference as Fed chairwoman. She plans to leave the Fed in early February. Binyamin Appelbaum …
More NAFTA Talks, but Not with the Top Negotiators.
The members of the North American Free Trade Agreement gather again in Washington this week to discuss the future of the trade pact. Negotiations have been tense, but two things may take the pressure off this time: The countries are not describing these so-called "intersessional" talks as an official negotiating round and they are expected to focus on making progress on areas of agreement, including digital trade and customs, rather than the most tendentious issues. The next official Nafta negotiating round will be held in Montreal from January 23 to 28. Ana Swanson …
The F.C.C. is Expected to Repeal Net Neutrality.
The Federal Communications Commission will vote on Thursday on a proposal to repeal landmark broadband regulations known as net neutrality, rules that ensure an open internet. The plan, put forth by the commission's chairman, Ajit Pai, is expected to pass on a 3-to-2 party line vote. The reversal of the Barack Obama-era rules would free broadband providers to create new pricing tiers for the delivery of web content to consumers and to charge for faster and better quality video streaming. Pai has proposed that the broadband companies reveal their business practices and that the Federal Trade Commission police the industry for anticompetitive behavior. Cecilia Kang …