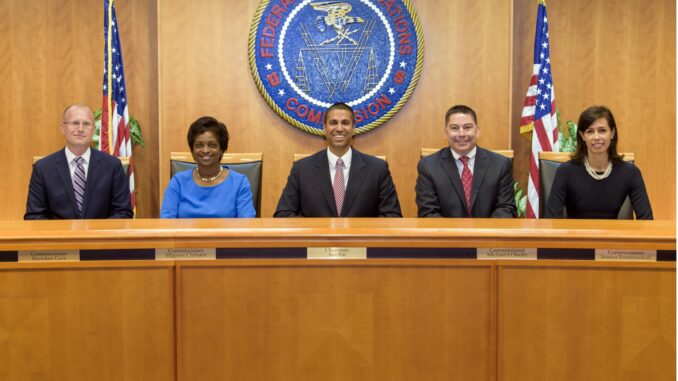 Reprinted from Tech Crunch by Devin Coldewey on December 14, 2017.
Despite overwhelming opposition from Congress, technical experts, advocacy organizations, and of course the American people, the FCC has voted to eliminate 2015's Open Internet Order and the net neutrality protections it established.
The order passed today, "Restoring Internet Freedom," essentially removes the FCC as a regulator of the broadband industry and relegates rules that prevented blocking and throttling content to the honor system. The FTC is now ostensibly has that role, but it is far from an expert agency on this topic and cannot make preemptive rules like those that have been in place for the last few years.
As expected, the vote was 3 to 2 along party lines, with Chairman Ajit Pai and Republican Commissioners Brendan Carr and Michael O'Rielly voting in favor of the order, and Democratic Commissioners Mignon Clyburn and Jessica Rosenworcel voting against. …
Net Neutrality Killed as FCC 'Hands Keys to Internet to Handful of Multi-Billion Dollar Corporations'
Reprinted from Common Dreams by Julia Conley on December 14, 2017.
The nonpartisan First Amendment advocacy group Free Press vowed to take the Federal Communications Commission (FCC) to court Thursday after the Republican-controlled panel moved to gut net neutrality protections that prohibit internet service providers (ISPs) from charging for and discriminating against content, in a 3-2 vote along party lines.
The ACLU released a statement calling the "misguided" decision "a radical departure that risks erosion of the biggest free speech platform the world has ever known."
"Today's loss means that telecommunications companies will start intruding more on how people use the internet. Internet service providers will become much more aggressive in their efforts to make money off their role as online gatekeepers," said Jay Stanley, senior policy analyst for the group. …