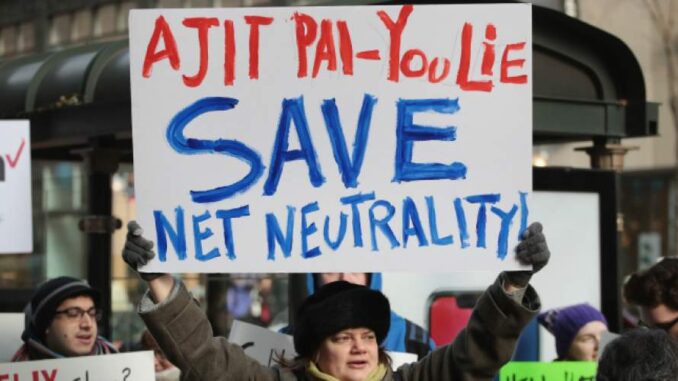 Reprinted from Common Dreams by Jessica Corbett on December 13, 2017.
Despite new polling that shows more than 80 percent of Americans oppose Federal Communications Commission Chairman Ajit Pai's plan to repeal net neutrality protections for the internet—which has provoked months of national protests—the FCC is disregarding that concern and will carry out its scheduled vote on the proposal Thursday.
The University of Maryland survey (pdf), published Monday, prepared respondents to weigh in by first providing them with policy briefs from both sides—Pai and major internet service providers (ISPs) such as Verizon, who claim the protections are a burdern, versus consumer groups and tech companies that argue net neutrality is the foundation on which the internet is built.
Although about 48 percent said Pai's argument that "rules restricting ISPs are unnecessarily heavy‐handed and stifle innovation" was convincing, more than 75 percent were convinced the rollback would "basically giv[e] ISPs a license to steal from consumers."
Ultimately, 83 percent of registered voters—75 percent of Republicans, 89 percent of Democrats, and 86 percent of Independents—said they oppose Pai's plan to allow service providers to control download speeds, limit or block access to certain websites, and charge consumers extra fees for broader access. …