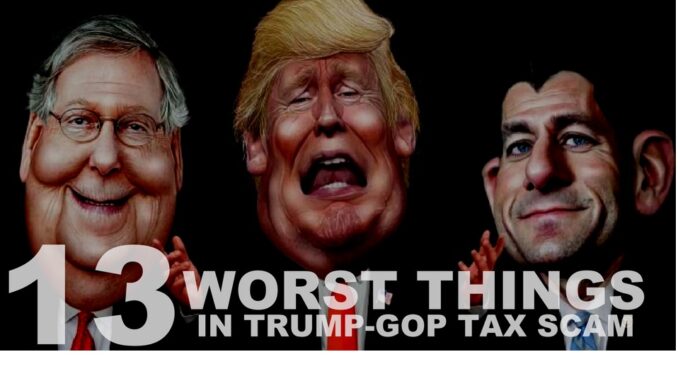 Reprinted from Common Dreams on December 19, 2017. It's unattributed.
As opponents continue to raise alarms about the GOP tax plan being pushed by President Donald Trump and Republican lawmakers—with the House expected to vote Tuesday afternoon and the Senate later in the day—a new analysis details 13 ways the proposed tax cuts for corporations and wealthy individuals will negatively impact American families and the U.S. economy while lavishing rewards on corporations and the rich.
The analysis by American for Tax Fairness (ATF)—a coalition of more than 425 groups that advocate for progressive tax reform—found that the Republicans' plan would give more than 80 percent of tax cuts to the nation's richest one percent while also—among other things—raising taxes on 92 million middle-class families; increasing healthcare premiums; encourage outsourcing of US-based jobs; and limiting deductions for state and local taxes.
ATF's analysis warns that the GOP's proposed legislation:
Gives 83% of the tax cuts to the richest 1% by 2027. The richest 1% of taxpayers will get one-fifth (21%) of the tax cuts in 2018, but that grows to 83% by 2027. Their tax cut will average $51,000 in 2018; the bottom 60% of taxpayers will get about a dollar day. [Tax Policy Center (TPC)] …