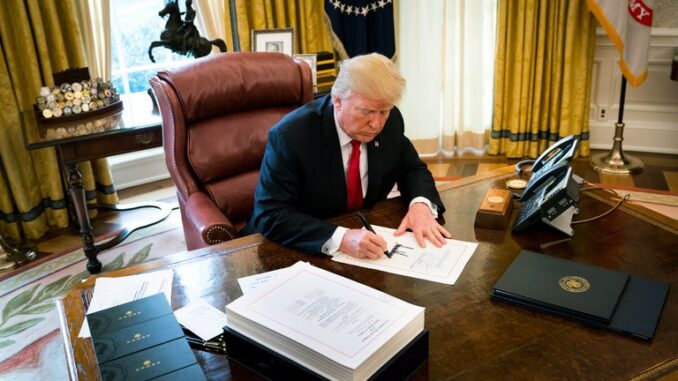 Reprinted from The New York Times by Michael Tackett and Eileen Sullivan on December 22, 2017.
President Trump signed a sweeping tax bill on Friday that Republicans promise will benefit the middle class, despite warnings from Democrats that the new law could be harmful to the country.
The bill was the most significant overhaul of America's tax system in decades and a legislative victory for Trump, who has struggled during his first year in office to pass major bills that would deliver on campaign promises, even with Republicans having the majority in both chambers of Congress.
Before signing the legislation on Friday in a last-minute Oval Office ceremony, Trump said in a Twitter post that companies were celebrating the bill's passage with bonuses for workers.
There was some discussion in Congress and at the White House that Trump should consider delaying the signing until early 2018 as a way to delay automatic spending cuts that could have been triggered by the tax cuts. In addition, some companies said that would give them more time to adjust to the major changes that the new tax code will mean for their businesses. …