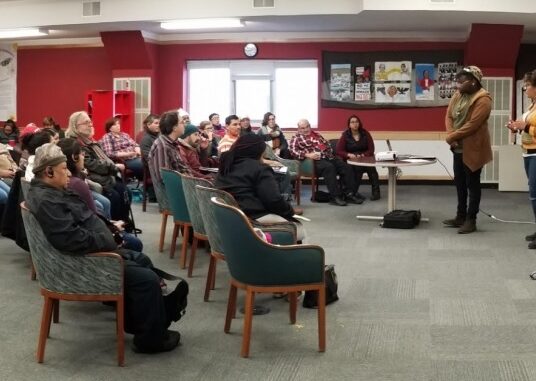 Reprinted from Labor Notes by Debbie Prokopf on January 26, 2017.
"One million visitors," writes Debie Prokopf for Labor Notes. "One hundred million television viewers. Ten thousand hospitality volunteers posted at hotels, light rail stations, and the airport. And an $800,000 ice palace. Super Bowl LII this February will undoubtedly make an economic impact on the Twin Cities. But a coalition of unions and community organizations is asking, 'At what cost to our communities?'
"In the months leading up to it, and culminating in a series of actions that will take place just before the Big Game, these groups are taking advantage of the temporary national media spotlight that's trained on the Minneapolis-St. Paul area—not only to win campaigns, but also to change the conversation about public priorities.
"'The Super Bowl is a big corporate prom, a chance for billionaires to pat themselves on the back,' says Minnesotans for a Fair Economy Director Steve Payne. 'Meanwhile, the NFL and its corporate partners use this high-profile event to continue a legacy of white supremacy and corporate capitalism that hurts our communities.'
"The coalition is pressing for school funding, union recognition at a bakery, and enforcement of Minneapolis's $15 minimum wage and sick-leave laws. …