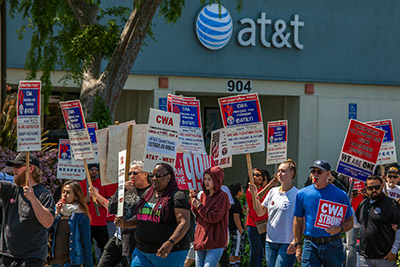 Reprinted from Android Headlines by Dominik Bosnjak on January 4, 2017.
AT&T is planning to lay off thousands of employees in the coming weeks and has prompted a lawsuit over the matter filed by the Communications Workers of America (CWA), the largest telecom labor union in the United States. The Dallas, Texas-based wireless carrier recently touted bonuses it intends to pay to approximately 200,000 of its employees due to the newly enacted tax reform but hasn't publicly commented on the layoffs before the CWA accused it of violating collective bargaining agreements. AT&T later called such allegations "baseless" and signaled it intends to fight them in court but has yet to confirm the exact extent of its layoffs.
The firm's official reasoning for letting go of a quadruple-digit number of its employees on a national level has to do with unspecified technological advancements that AT&T claims reduced the workload of some of its units, especially those pertaining to its legacy services like phone landlines. The CWA says such suggestions are misleading because the company's business has been booming, citing $6.4 billion in operating income AT&T reported for the third quarter of 2017. While the union's argument doesn't necessarily defeat AT&T's claims that the declining demand for its legacy services is reducing the workload of some of its units, the CWA alleged the company is already replacing its former union workers with subcontractors in an effort to weaken the union's power. That accusation doesn't pertain to all of AT&T's recent layoffs but 713 employees whose positions were terminated in Missouri, Oklahoma, Kansas, Arkansas, and Texas.
The plaintiff also filed an identical complaint with the National Labor Relations Board, whereas the original lawsuit is being handled by the Austin, Texas-based U.S. District Court. Some industry watchers are suggesting AT&T's reasoning for its layoffs defeats the company's previously publicized arguments against net neutrality regulations which it claimed discouraged investments. Likewise, AT&T promised an additional $1 billion in investments should the Congress pass the recently enacted tax reform and while its lobbying efforts in 2017 have been a resounding success by nearly every definition, thousands of employees are now still set to lose their jobs in the coming weeks, though it remains to be seen whether AT&T truly replaces them with subcontractors like the CWA claims it will. …