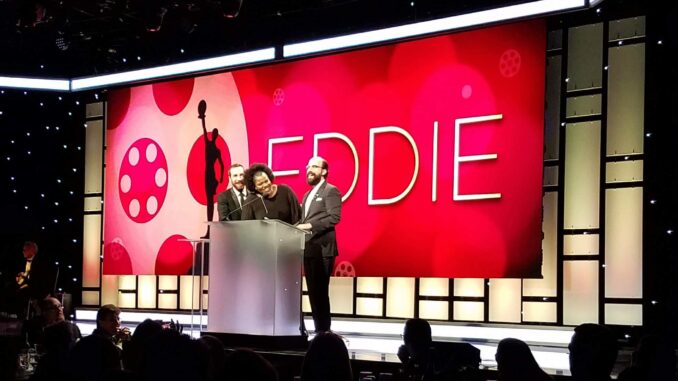 Reprinted from The Hollywood Reporter by Carolyn Giardina on January 26, 2017.
Lee Smith's editing of Dunkirk and Tatiana Riegel's cut of I, Tonya topped the feature competition at the 68th annual American Cinema Editors' Eddie Awards, winning trophies in the categories of best edited dramatic feature and best edited comedy feature, respectively.
Both editors are also nominated for the Academy Award in film editing, along with editor Sidney Wolinsky for The Shape of Water, who was also nominated for an Eddie in the dramatic feature category; and editors Jonathan Amos and Paul Machliss for Baby Driver and John Gregory for Three Billboards Outside Ebbing, Missouri, who were nominated for the Eddie in the comedy feature competition.
In 10 of the last 15 years, the winner of the best edited dramatic feature category went on to win the Oscar for film editing. In 2003, Chicago, the winner of the Eddie for best edited musical or comedy, won the Academy Award in the category.
Friday night at the Beverly Hilton, another big winner was Will Znidaric, who won two trophies during the ceremony. He, along with Joe Beshenkovsky and director Brett Morgen, won the feature documentary category for Jane; and he additionally won the best edited small screen documentary trophy for Five Came Back: The Price of Victory.
The Eddie for best edited animated feature was awarded to Steve Bloom for Disney/Pixar's Coco. This category was introduced in 2010, and since then, the film that won the Eddie has mirrored the recipient of the Oscar for best-animated feature all but once (in 2015, when The Lego Movie won the Eddie and Big Hero Six grabbed the Oscar).
Additional winners included editors on Fargo, The Handmaid's Tale, Black-ish, Curb Your Enthusiasm, Genius and Vice News Tonight.
During the evening, Vince Gilligan received ACE's Golden Eddie. Additionally, Career Achievement Awards were presented to Oscar-nominated editor Mark Goldblatt, whose credits including The Terminator, Terminator 2 and Starship Troopers; and Leon Ortiz-Gil, whose TV credits include Law & Order, 24 and Battlestar Galactica. …
(Click on the link for a complete list of nominees and winners.)