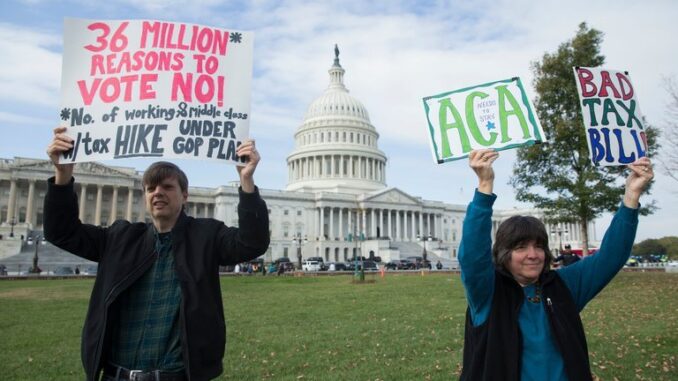 Reprinted from The New York Times by Robert Pear on January 14, 2017.
Having wiped out the requirement for people to have health insurance, Republicans in Congress are taking aim at a new target: the mandate in the Affordable Care Act that employers offer coverage to employees.
And many employers are cheering the effort.
While large companies have long offered health benefits, many have chafed at the detailed requirements under the health law, including its reporting rules, which they see as onerous and expensive. Now that relief has been extended to individuals, some companies believe they should be next in line.
The individual mandate and the employer mandate are "inextricably entwined," said James Klein, the president of the American Benefits Council, an influential lobby for large companies like Dow Chemical, Microsoft and BP, the oil and gas producer. …
WP: These Trump Administration Changes Could Make Health-Care Coverage Worse
Reprinted from The Washington Post by its Editorial Board on January 15, 2017.
SINCE THE big Obamacare repeal-and-replace bills failed in the Senate, Congress and President Trump have sought to undermine the law in subtler ways. First, Republican lawmakers repealed Obamacare's individual mandate, a key element of the law's design. Now the Trump administration is rolling out rules that threaten to damage the structure further.
The Labor Department this month proposed looser regulations on so-called association health plans, under which small businesses, professional associations and others in similar circumstances can band together and buy insurance coverage for their groups as though they were large employers. The department argues that up to 11 million people working at small businesses or as sole proprietors lack health insurance, and that the new rules would help provide them more options.
In fact, there is a potentially large downside. The rules would also excuse association health plans from covering 10 classes of essential health benefits. Plans would probably be cheaper, but they would likely cover less than the comprehensive ones Obamacare sought to make the national standard. It is likely that some people who buy these plans will develop significant health problems and find themselves disastrously under-covered. Some may be willing to take that risk. The bigger problem is that opening a new avenue to buying shoddier insurance may harm everyone else seeking affordable, comprehensive coverage when they cannot get it from a large employer. …