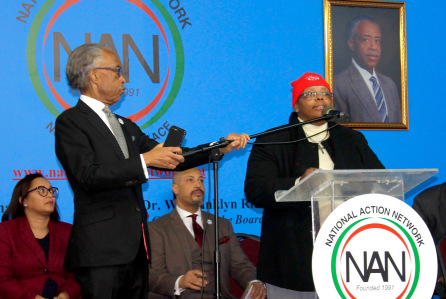 Reprinted from Deadline Hollywood by Jeremy Gerard on January 16, 2017.
Lanere Holmes Rollins, a Parking Production Assistant who has cleared New York's streets for film and TV crews for more than two decades, waited more than three hours to claim Martin Luther King day as her own. She had the formidable challenge of making her case before a packed meeting room in East Harlem after a power posse of the state's top politicians joined the Rev. Al Sharpton to celebrate the slain Civil Rights leader. The holiday this year marked the 50th anniversary of King's murder in Memphis, TN, where he was speaking in support of striking sanitation workers.
Governor Andrew Cuomo, Attorney General Eric Schneiderman, US Senators Charles Schumer and Kirsten Gillibrand, Mayor Bill de Blasio, Public Advocate Letitia James and others summoned the inclusive King and denounced what they called the divisive and racist policies of President Donald Trump, several times bringing the audience at the headquarters of Sharpton's National Action Network to its feet.
But if any of the speakers captured the spirit of Dr. King the most, it might well have been Holmes Rollins, speaking on behalf of those on the lowest rung of New York's thriving entertainment industry.
"We make it possible so that you can go see the Golden Globe winner, we worked on that show," Rollins began, "and earned less than $11 an hour. …