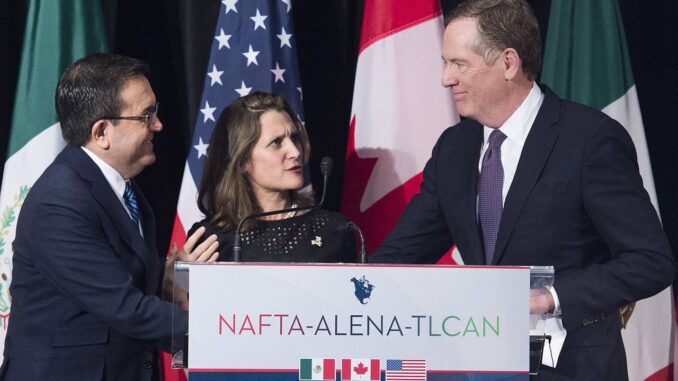 Reprinted from The Wall Street Journal by Paul Vieira and William Mauldin on January 29, 2017.
Negotiations to revamp the North American Free Trade Agreement survived what was seen as the crucial sixth round, with the US, Canada and Mexico tackling difficult issues even as tensions flared between the US and Canada over auto-industry rules.
Singling out Canada for criticism, US Trade Representative Robert Lighthizer said Ottawa's proposal on changing rules in the crucial auto sector would reduce jobs in the bloc. He also chastised Canada for recently bringing a case to the World Trade Organization challenging the Trump administration's use of tariffs.
Still, Lighthizer and his Mexican and Canadian counterparts nodded to progress in the talks at the official end of a six-day round of Nafta negotiations in Canada's second-largest city.
"Some real headway was made here today," Lighthizer told reporters after meeting with his counterparts. "I am hopeful that progress will accelerate soon." …
US, Mexico Unions File NAFTA Labor Complaint to Influence Talks
… A key complaint is that NAFTA has failed to lift chronically low Mexican wages that have steadily drawn US and Canadian factories and jobs to Mexico by allowing companies there to thwart unionization. Lower health and safety standards also persist in Mexican factories.
AFL-CIO President Richard Trumka said in a statement that Mexico's non-compliance with even its 1994 labor obligations shows that NAFTA is "a failure.""Mexico's low-wage, low-rights economy keeps wages down in all three countries and has failed to develop Mexico as a larger market for US exports," Trumka added.
The US Trade Representative's office has made steep demands on automotive content to reverse job migration, but its labor proposals have disappointed unions and many Democratic Party lawmakers. The proposals have stuck largely to language that Mexico and Canada previously agreed to in the Trans-Pacific Partnership, a trade deal the Trump administration has abandoned. …
Thus far, Canada led the call for higher labor standards in the talks, including making a proposal that the United States revise its so-called right-to-work laws in many southern states that help to limit the spread of unions in manufacturing. …