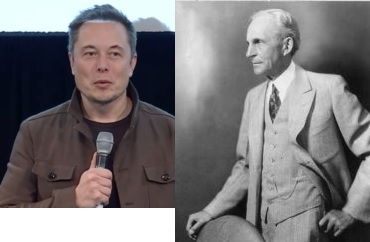 Reprinted from Clean Technica by James Ayre on February 18, 2018.
"If Henry Ford were alive today, what would he think of the current iteration of his namesake company?"asks James Ayre in Clean Technica. "What would he think of Tesla Motors? What would he think of the auto industry as a whole?
"Those are impossible questions to truly know the answers to, as Henry Ford is of course at this point long dead …
"Commonalities are easier to find — with the two business figures possessing similar views on labor unions, for instance. And while Musk (as far as I know) doesn't pay private investigators to snoop on his employees, he is ostensibly part of the tech sector, which is intimately entwined with the intelligence services operating within the US … but that's a bit of a stretch as far as a comparison between Musk and Ford.
"It seems the two certainly also have/had a mind for creating positive PR — with Ford's focus on advertising and 'big announcements' being matched by Musk's effective use of social media and spectacle.