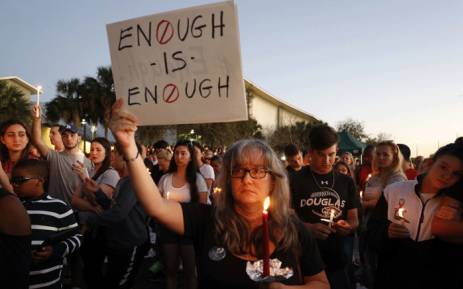 Reprinted from Education International by its staff on February 15, 2018.
Educators the world over have expressed their shock and distress at the news of another deadly shooting in a US school.
According to news outlets a heavily armed young man barged into his former high school northwest of Miami on Wednesday, opening fire on students and teachers and leaving a death toll of 17 that could rise even higher, the authorities said.
Education International (EI) affiliates in the United States, AFT and NEA, have both issued statements in support of the victims and condemning the attack.
Randi Weingarten, AFT president, said that with 18 school shootings this year one had to wonder "when is enough enough?" She asserted her union's unconditional support to the victims: "We will do everything we can to support our educators, children, parents and local in the days, weeks and even years to come. [And we] will continue to fight to prevent gun violence from becoming the new normal in our schools."
NEA president Lily Eskelsen García called on the government to act against violence in schools. "We all have a responsibility to create safe schools and communities. As a state and a country, we can and must do more to ensure that everyone who walks through our school doors – educator, student, parent or community member – is safe and free from violence," she said.
EI General Secretary Fred van Leeuwen joined his colleagues in their demand for schools to be havens of peace: "This is one further incident in a horrifying sequence of shootings in US schools which have cut short far too many young lives in tragic circumstances. Education International calls for better control of access to guns in the USA and for improved security on school premises." …