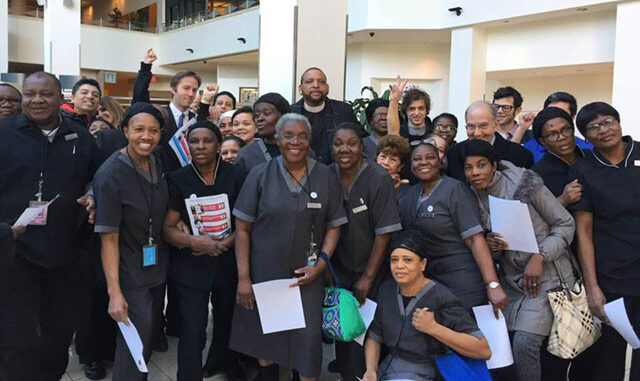 Reprinted from TruthOut by Andrew Tillett-Saks on February 11, 2018.
"It's Saturday afternoon in December 2017 at the hotel workers' union hall in Stamford, Connecticut, a mere two days before a scheduled union election at the Hilton Stamford," writes Andrew Tillett-Saks in TruthOut. "Where one would expect nerves and chaos, a quiet calm covers the hall. American unions have struggled for decades to successfully organize non-union workers, with the movement's difficulties organizing workers only intensifying. Notwithstanding a recent small uptick amongst white-collar workers and scattered victories, unions have been unable to figure out how to organize US workers en masse. Recent high-profile election losses, much of the labor movement choosing not to even attempt elections and some unions beginning to experiment with minority unionism all evidence this struggle. The Hilton Stamford workers were attempting where many are failing and decreasingly few are even attempting.
"The 130 workers of the Hilton Stamford faced all of the familiar challenges: The majority Haitian-immigrant workplace faced great legal intimidation in the form of Trump's elimination of Temporary Protected Status, hotel ownership spent upwards of $1 million on a vicious union-busting campaign (including contracting Trump's personal anti-union consultant and armed guards to patrol the hotel), and hotel ownership ran roughshod over the workers' organizing rights throughout the campaign.
"Nevertheless, pre-election Saturday afternoon at the hotel workers union hall was uncomfortably comfortable. Two days later, the workers' confidence proved well founded, as Hilton Stamford workers obliterated the company's anti-union campaign in voting 110 to 5 for the union. …