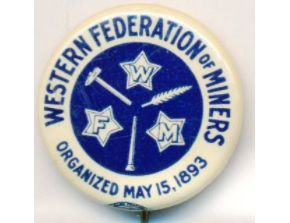 Reprinted from The Progressive by Brandon Weber on February 12, 2018.
"It was the first time—and likely the last—that a state militia force was called out in support of a striking union, rather than against it," writes Brandon Weber in The Progressive. "Why? Because the governor of the state, a populist, was elected by those very same striking workers and miners.
"Colorado's Cripple Creek miners' strike of 1894 was marred by violence—some of it perpetrated by company thugs, and some by union members—but in the end, the union grew at such a rapid pace that it organized more than 200 local unions in thirteen states over the next ten years, and set the pattern for future mine agreements in the West of eight hours of work for $3 a day.
"In 1881, gold and silver were discovered in Colorado's Rocky Mountains southwest of Pike's Peak. Fewer than ten years later, more than 500 mines operated in the region. But during the stock market panic of 1893, the silver mines took a serious hit (gold prices did not suffer a similar fate), creating a glut of mining labor. Three of the area's primary gold mine owners colluded, in early 1894, to demand that their miners shift from an eight-hour day to a ten-hour day, but for the same pay of $3 per day. Some offered an eight-hour shift, but would only pay $2.50. …