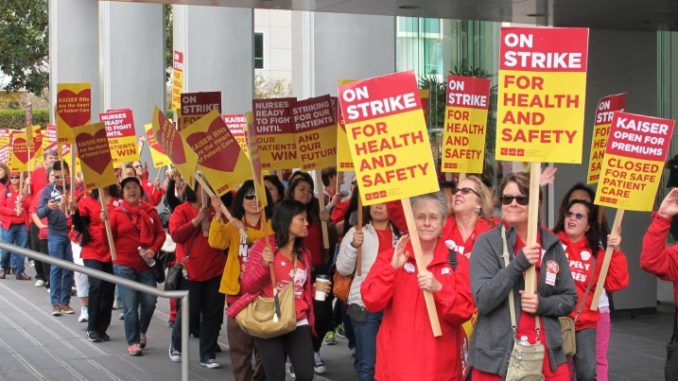 Reprinted from Becker's Hospital Review by Kelly Gooch on March 19, 2018.
Tens of thousands of registered nurses and nurse practitioners at facilities owned by Oakland, California-based Kaiser Permanente reached a tentative labor deal with the healthcare giant March 16, according to a union news release.
The five-year proposed contract covers roughly 19,000 Kaiser Permanente RNs and nurse practitioners represented by the California Nurses Association. It includes 150 RN full- time equivalents to facilitate the move of Kaiser Permanente's existing GRASP patient classification system to Epic Acuity, and protects nurses' pensions and medical benefits for current and retired RNs and nurse practitioners, union officials said. It also includes an across-the-board 12 percent pay increase and 3 percent lump sum over the course of the contract, and the addition of 600 RN patient care coordinators.
Debora Catsavas, senior vice president of human resources at Kaiser Permanente Northern California, praised the proposed contract in a statement to Becker's Hospital Review. …