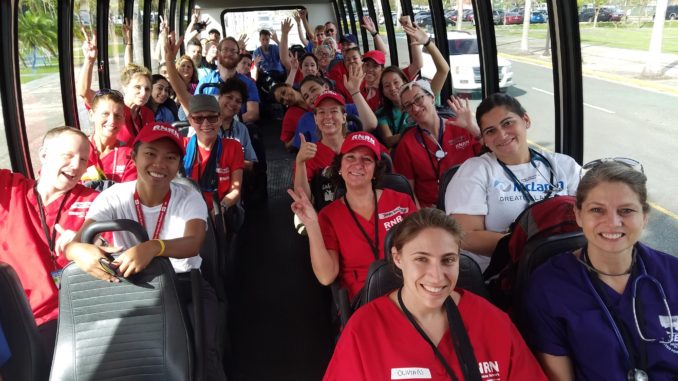 Reprinted from The AFL-CIO Now by Gonzalo Salvador on March 18, 2018.
"There are days in our lives that are unforgettable," writes Gonzalo Salvador in the AFL-CIO blog Now. "They are entrenched in our minds. They follow us like perennial shadows. Six months ago, I spent five days in Puerto Rico—two weeks after Hurricane Maria devastated this Caribbean island. As I look back into this short trip, I see images and situations that have stayed with me. Memories that are a constant reminder of how much remains to be done to lift up all working families who were affected by this disaster. Here are some of these moments:
Saturday, October 7—Luis Muñoz Marin Airport, Carolina, Puerto Rico
"Families with small children, elderly people. All of them desperately trying to leave the island. A feeling of guilt invaded me as I stepped onto my United Airlines flight to Newark, New Jersey. Nearly 300 volunteers from different unions stayed in Puerto Rico for another two weeks, providing critical relief to people who were affected by Hurricane Maria. In the previous four days, they became my brothers and sisters.
Wednesday, October 4—Baseball Stadium, San Juan, Puerto Rico
"It is 4 o'clock in the morning. 'Everyone up. Time to go.' I overheard the voice coming from back in the locker room, still half asleep while laying down on a cot. My roommates, most of them operating engineers, dressed in a heartbeat. They were energized and looking forward to getting to work. …
Common Dreams: 'Neglect and Bureaucracy;' Six Months After Maria, Trump Condemned for Failed Response in Puerto Rico
Reprinted from Common Dreams by Jessica Corbett on March 20, 2018.
It has been exactly six months since Hurricane Maria ravaged the island of Puerto Rico, but thousands of residents of the American territory still lack electricity or are unable to return home, illustrating how the Trump administration and Congress have failed to adequately address the crisis that followed the devastating storm in September. …
The Associated Press reports that "crews already have restored water to 99 percent of clients and power to 93 percent of customers, but more than 100,000 of them still remain in the dark and there are frequent power outages."
The interim director of the beleaguered Puerto Rico Electric Power Authority (PREPA), Justo Gonzalez, said he doesn't expect the island to be fully powered until May, which will be, as the AP notes, "eight months after the Category 4 storm destroyed two-thirds of the island's power distribution system—and just as the 2018 Atlantic hurricane season is about to start." …