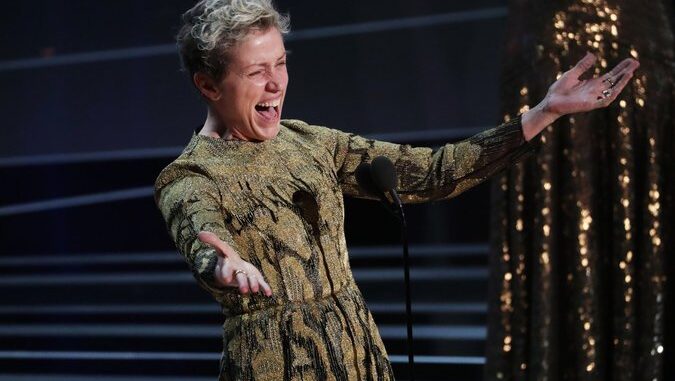 Reprinted from The New York Times by Brooks Barnes and Cara Buckley on March 5, 2018.
The 90th Academy Awards ceremony skittered between the serious and the silly on Sunday night, taking time both to acknowledge #MeToo and to hand out hot dogs at an adjacent movie theater, but the show ultimately emerged as a powerful call for inclusion and diversity in Hollywood.
Guillermo del Toro's outcast parable, The Shape of Water, was honored as best picture, and del Toro won the best director Oscar. Jordan Peele collected the best original screenplay award for Get Out, a movie centered on racism in the liberal white suburbs. And Frances McDormand, winning best actress for her portryal of a mother seeking justice for her murdered daughter in Three Billboards Outside Ebbing, Missouri, made a dramatic stand for gender equality in Hollywood.
She thanked "every single person in this building" and her sister before asking the female nominees in the room to stand. "Look around," she said. "We all have stories to tell and projects we need financed."
McDormand's win was expected, as was Gary Oldman's (Darkest Hour) for best actor. …