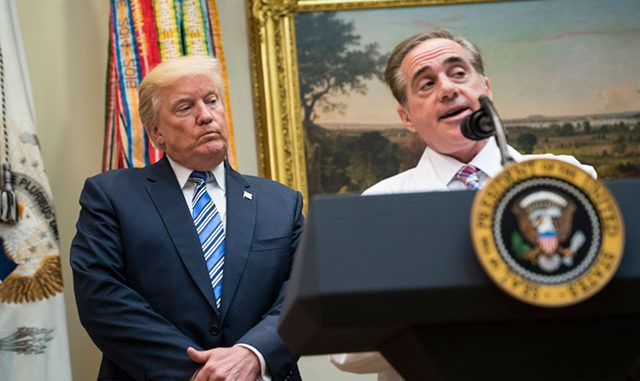 Reprinted from TruthOut by Bryce Covert on March 18, 2018.
… "[Aaron] Hughes' organization, About Face: Veterans Against the War, has joined other veterans' groups, unions and healthcare advocates to launch a campaign to stop the privatization of the VA," writes Bryce Covert in TruthOut. "After several months of building the coalition, the mobilization now includes Veterans for Peace, Service Employees International Union, the American Federation of Government Employees (AFGE) and National Nurses United. Healthcare advocacy groups including the Illinois Single Payer Coalition and the Democratic Socialists of America Healthcare Working Group have also joined the campaign. When the organizations came together on March 1 to hold a panel event in Chicago, more than 100 people showed up.
"The combination of unions and veterans' groups is potent. 'We as veterans can argue and demand things and raise issues that the unions can't, and the unions can inform us about issues that we don't understand,' Hughes said. 'We're seeing outside, and they're seeing inside of the system. We're able to have this inside/outside strategy that I think is really a winning strategy.'
"Organizers believe the time is right to invest in that teamwork now. 'It came to our attention last fall that things under the Trump administration have been getting really bad,' Roberto Clack, an organizer with the Right to Heal VA Campaign, told In These Times.