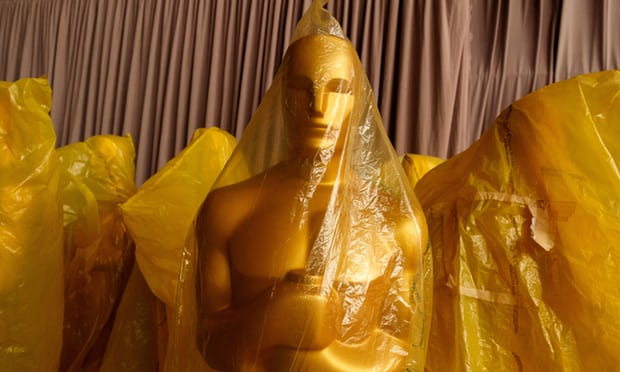 Reprinted from The Guardian UK by Steve Rose on March 3, 2018.
It's been touted as one of the most open Academy Awards in recent memory, but whoever wins tonight we already know who the loser is. The award for worst performing sector of society goes to … and no surprises here: white masculinity. This particular demographic has already been identified as the problem with the movie industry in general and the academy in particular, in the wake of both #OscarsSoWhite (which campaigned for more representation of people of colour in film) and the current #MeToo/Time's Up movement (against sexual harassment and gender inequality in the industry). Looking at this year's best picture nominees, that sentiment appears to have carried through into the movies themselves.
Frontrunner The Shape of Water, for example, is set in cold war America but mirrors the current political zeitgeist uncannily. Its central characters are all marginalised members of society: Sally Hawkins plays a mute cleaner, her best friends are an African-American woman and a gay artist, and she forms a romantic bond with a humanoid amphibian creature (he's from the Amazon, so technically he's a Latino). But it's clear who the real monster of the piece is: Michael Shannon's sour, sadistic, ramrod-straight FBI agent. He essentially represents the postwar American patriarchy keeping these women and minorities down.
The white, male establishment is the enemy across the board this year. In Three Billboards Outside Ebbing, Missouri, Frances McDormand (the favourite for best actress) wages a one-woman war against her local police department, personified by Woody Harrelson and his racist deputy, Sam Rockwell. In Get Out, Daniel Kaluuya is imperilled by a seemingly respectable white community (of both sexes) that turns out to prey on African Americans with impunity. Call Me By Your Name is a story of white men rejecting heterosexual norms, and Lady Bird is a female-centric teen story in which the only significant males are the heroine's two boyfriends (both douchebags, to some extent) and her father, who is unemployed and battling depression. Most emblematic of all, perhaps, is Paul Thomas Anderson's Phantom Thread, in which Daniel Day-Lewis portrays a 1950s fashion designer. He is the epitome of toxic masculinity: domineering, intimidating, complacent. He bosses women about, he dresses them like dolls, he parades them like automatons, and he heartlessly discards them once he's done with them. He'd make a great movie director. …
The Oscars 2018 Primer, Timetable and Final Predictions
Reprinted from The Guardian UK on March 4, 2018. It is unattributed.
… As we drum our fingers and twiddle our thumbs, this is a good time to reflect on what surely is a landmark Oscars after a year of turbulence and sea change in Hollywood: the downfall of Harvey Weinstein, the emergence of Times Up and red-carpet blackouts, and the thrilling rise of diversity at the multiplex.
The consensus is that this year's best picture Oscar has boiled down to a two-horse race, between The Shape of Water and Three Billboards Outside Ebbing, Missouri – the former edging ahead despite the latter winning the equivalent award at the Baftas and coming out on top at the Globes. The other headline awards look like they'll be dead certs: the money is on Gary Oldman for Darkest Hour, Frances McDormand for Three Billboards, and Sam Rockwell and Alison Janney for the supporting actor nods. Shape heads the nominations count with 13, but if the Baftas are anything to go by no one film will sweep the board. Here's the full list to peruse. …