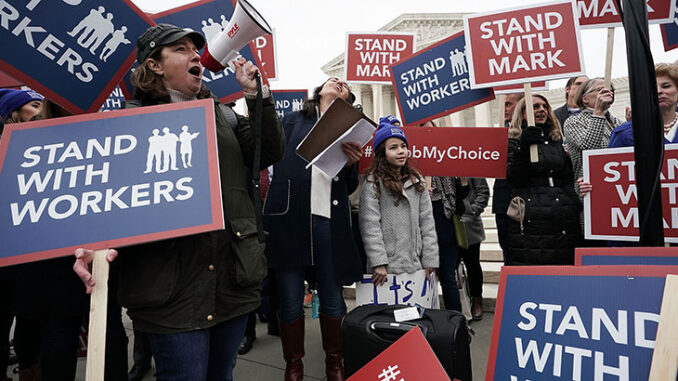 Reprinted from The Washington Post by Shaun Richman on March 1, 2018.
On Monday, the Supreme Court heard the case Janus vs. AFSCME, with the fate of the labor movement seemingly in the balance. At stake are agency fees — public sector unions can collect fees for service from employees who don't join the union that represents them, which the plaintiff argues is an unconstitutional act of compelled speech.
The deep-pocketed backers of Janus aim to bankrupt unions and strip them of whatever power they still have, but if the court rules that an interaction a union has with the government is political speech, they might not be so happy with the results. Many have noted that such an overreaching and inconsistent decision could have unintended consequences by granting a heretofore denied constitutional right to collective bargaining and transforming thousands of workplace disputes into constitutional controversies.
What the Janus backers (and most commentators) miss is that agency fees are not just compensation for the financial costs of representation, but for the political costs of representing all the members in the bargaining unit and maintaining labor peace. As AFSCME's attorney pointed out in his oral arguments, the agency fee is routinely traded for a no-strike clause in most union contracts. Should those clauses disappear, employers will have chaos and discord on their hands.
American labor laws, and the employers who benefit from them, prefer that if there's going to be a union, only one should serve as the exclusive representative of all eligible employees in a workplace. That scheme imposes on unions a legal obligation to fairly represent all members of the bargaining unit, and a political imperative to defend the terms of any deal as "the best we could get" (even if it includes concessions on benefits and work rules). It rewards the unions with a guaranteed right to exist and a reliable base of fee-paying membership. But it rewards employers with the far more valuable guarantee of the right to direct the uninterrupted work of the enterprise while union leadership has to tamp down rank-and-file gripes and discord for the length of the contract.
The combination of exclusive union representation, mandatory agency fees, no-strike clauses and "management's rights" are the foundation of our peculiar labor relations system.  …