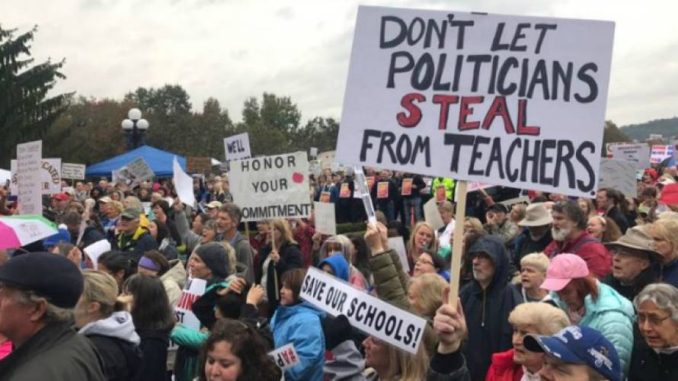 Reprinted from Common Dreams by Jessica Corbett on April 6, 2018.
After Kentucky's GOP-controlled legislature passed a bill last week to slash teachers' retirement benefits—a proposal that has provoked a series of massive protests—lawmakers approved legislation that would cut taxes for the state's wealthiest residents while hiking taxes for the remaining 95 percent, moves that critics say clearly demonstrate the misplaced priorities of the Republican Party.
Although both bills still need a signature from Republican Governor Matt Bevin, he seemed to signal his support for the pension bill on Twitter, and while he has expressed concerns about the tax measure, the legislature could override a veto. If the tax plan takes effect, experts warn that the states' poorest residents will be hardest hit.
"The whole plan is a big tax shift from the wealthy and corporations to the middle class and poor," Jason Bailey, executive director of the Kentucky Center for Economic Policy (KCEP), told the Lexington Herald-Leader. Bailey highlighted analysis from the Institute for Taxation and Economic Policy (ITEP) that found those in the state's top one percent will save, on average, more than $7,000. …