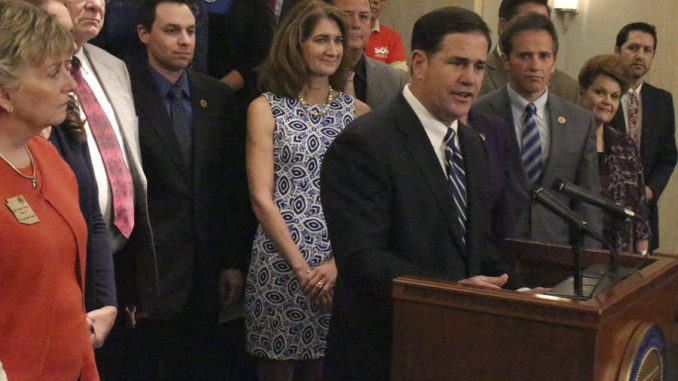 Reprinted from The New York Times by The Associated Press on April 12, 2018.
Caving to demands from teachers who have protested low pay and school funding shortfalls for weeks, Arizona Governor Doug Ducey rolled out a proposal Thursday promising a net 20 percent raise by 2020 and pledged to push the proposal through the Legislature in the coming weeks.
The Republican governor's announcement came after more than a month of protests at the state Capitol and at schools across Arizona that were followed by a strike threat early this week. Teachers were encouraged in part by successful teacher walkouts in West Virginia and Oklahoma. Those teachers shocked their state's leaders by surrounding their Capitols and demanding funding after years of cuts, setting off similar feelings in other Republican states like Arizona where tax cuts have crimped school funding.
"Today is a good day for teachers in Arizona," Ducey said to open a press briefing.
Teachers who organized a grassroots effort that drew more than 40,000 members were cool to the announcement, saying they wanted details before reacting. …