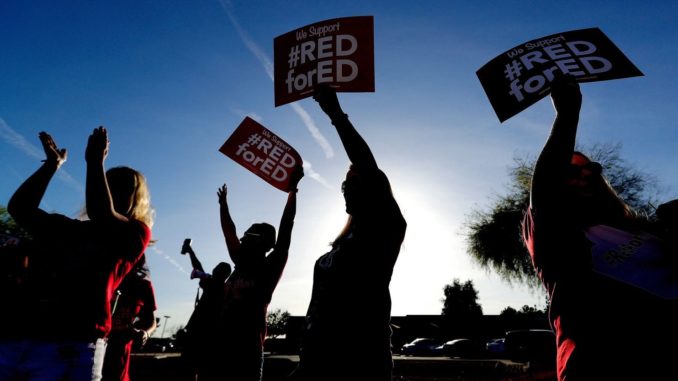 Reprinted from The Washington Post by Melissa Daniels on April 24, 2018.
Arizona policymakers have yet to agree how to increase teacher pay or education funding ahead of a first-ever statewide walkout this week, prompting calls from Democrats and even one Republican to generate new tax revenue in the conservative state.
Republicans who control the state Legislature have yet to fully back Governor Doug Ducey's plan for a 20 percent teacher raise, which would cost $650 million by 2020. Many have shared concerns about the rosy revenue projections Ducey is using to cover the increase.
Teachers have protested for weeks and took a vote on whether to launch the first statewide strike after Ducey unveiled his plan, saying they're concerned it doesn't increase funding for classrooms and students.
With Ducey and legislative leaders meeting behind closed doors to negotiate a deal, Republican state Representative Noel Campbell offered a plan for a sales tax increase. He said the three-year boost of 1 percent would generate $1 billion annually. …