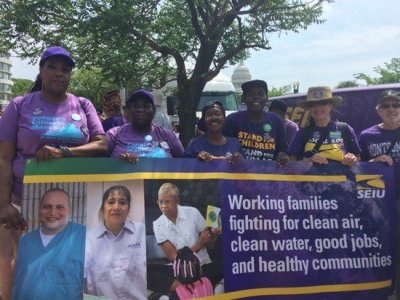 Reprinted from Red, Green and Blue Alliance by Kim Glas on April 21, 2018.
Without the work of unions to help organize events throughout the country, the first Earth Day might not have been the success it was. In fact, the largest contributor to the first Earth Day was a labor union, and in the intervening decades since that first event, unions and their members have been fighting for a cleaner economy and safe and healthy workplaces and communities.
Why? The answer was simply and eloquently put forward by then-Senator Gaylord Nelson of Wisconsin, the founder of Earth Day, on "Face the Nation" just days before the first Earth Day. He said, "…some people who talk about the environment talk about it as though it involved only a question of clean air and clean water. The environment involves the whole broad spectrum of man's relationship to all other living creatures, including other human beings." Basically, caring for the planet also means caring for your fellow human beings.
Unions are a vital and necessary instrument to do just that.
Unions give a voice to those that might not have it otherwise. They are a key to ensuring prosperity for workers, but also to safe jobs and workplaces. They provide real protections for people who blow the whistle on the use of dangerous chemicals, and on pollution, potential industrial disasters, and other hazards. They are better trained to deal with dangerous conditions in the workplace. They can and do collectively bargain to make their workplaces safer and healthier. …