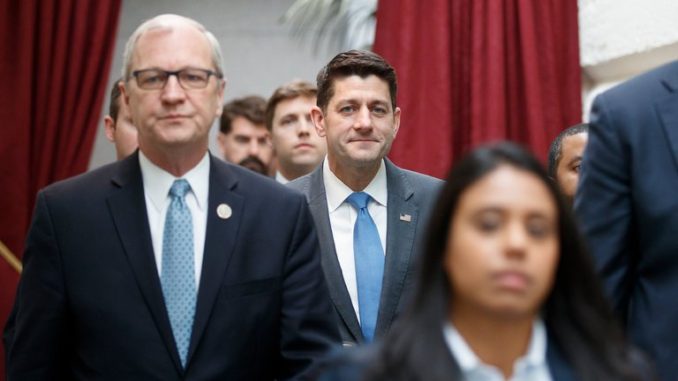 Reprinted from The New York Times by Jonathan Martin and Nicholas Fandos on April 11, 2018.
Speaker Paul Ryan announced Wednesday that he will not seek re-election in November, ending a brief stint atop the House and signaling the peril that the Republican majority faces in the midterm elections.
Ryan said he will serve until the end of this Congress in January, which will mark 20 years in Congress. He insisted he will be "leaving this majority in good hands with what I believe is a very bright future."
But his retirement, at the age of 48, is sure to kick off a succession battle for the leadership of the House Republican Conference, likely between the House majority leader, Kevin McCarthy of California, and the House majority whip, Steve Scalise of Louisiana. And it could also trigger another wave of retirements among Republicans not eager to face angry voters in the fall and taking their cue from Ryan. …
Senator Chuck Schumer of New York, the Democratic leader, urged Ryan to use his last months as speaker to work toward bipartisan compromises.
"With his newfound political freedom, I hope the Speaker uses his remaining time in Congress to break free from the hard-right factions of his caucus that have kept Congress from getting real things done," he said. "If he's willing to reach across the aisle, he'll find Democrats willing and eager to work with him." …
Ryan Disparages the Consumer Financial Protection Bureau
Reprinted from Jacobin by Meagan Day in March of 2018.
For months, the Consumer Financial Protection Bureau (CFPB) has been at the center of a battle that some have called a "Rome-versus-Avignon power struggle" — but most Americans aren't really paying attention. Simply put, the CFPB stops financial businesses from harassing and defrauding people. The agency is virtually the only major accountability-oriented reform to emerge in response to the 2008 economic collapse, and its demise would leave millions of people largely defenseless against predatory financial corporations. …
The CFPB has accomplished a lot in its young life. It was created in 2011 as part of the Dodd-Frank legislation that was supposed to break the finance sector's most harmful habits. From the start, the agency has had die-hard enemies in the GOP: Paul Ryan disparaged it as an "unchecked, unconstitutional, and unaccountable" example of federal overreach. But it's been successful in shielding consumers from abusive practices by banks, lenders, and collectors — as well as playing Robin Hood by taking from wealthy corporations to give to the average misled financial consumer. …